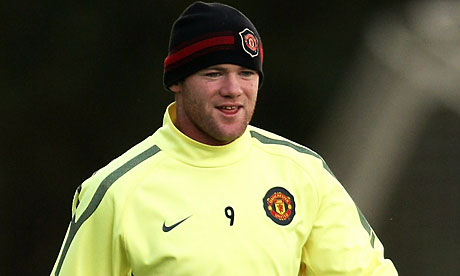 Yeah yeah, this is an article inspired by Wayne Rooney and you are on a Barcelona Football Blog… get over it. So Rooney gets pissed because the guys at Manchester United are stringing him along for a contract renewal, even though he is one of the better strikers in the world and played hurt for 4 months trying to will MUFC and England to titles. So he got pissed, said he wanted out and created a huge media firestorm surrounding his supposed flight from Old Trafford to Chelsea, Madrid, Barcelona, Man City, or the most likely destination of all: NY Red Bulls. Predictably then, the media backlash turns on Rooney because he's not "loyal" to his team and is a "traitor" and all that heavy-handed moralizing that really does not fit in the place of modern business contracts. Especially in club football, where your side dumps you for a Euro and a 40. Probably even more predictably, Rooney today re-signed on a new 5-year deal with the Red Devils and the world is finally back to rotating around the sun on it's proper axis. But what can we learn from this saga about how we should react to players, clubs, and the news that comes about?
Let us do away with any pretense at the start: clubs are businesses, used to make money and market players, brands, and ideas. This is not your family, or your closest friend, or some medieval clan protecting against all comers. So long as we all understand that, we will be fine.
In the wake of all this we have the typical mountain slide of idiotic journalistic vitriol being thrown by the English (and other places) press at Rooney. Speaking of how he had "cynical and disloyal posturing" Oh woe is Manchester United! Those poor, pitiful multimillionaires wandering around aimlessly attempting to hand Wayne Rooney money and hookers on a silver platter while he eschews their advances in favor of the lofty glances of… East Manchester? What an epic asshole that Rooney is for wanting assurances on his future when he could be severely injured in the slightest of contacts at practice and for trying to force the hand of a corporation worth untold billions of dollars into giving him that assurance. I am certain no club has ever thrown a player under the bus to make him look bad in the press and force him to negotiate to a lower deal before? Right? RIGHT!
Then we have quotes like this from James Lawton's earlier linked article:
As for Keane's butcher's shop of damaged footballers, Nobby Stiles left Old Trafford with shattered knees and a perilous bank account after 14 brilliant years.
Stiles knew about loyalty and honour and ambition. It developed in the days after the Munich air disaster, when he rocked in his grief in an empty church in his native Collyhurst and this month – isn't the timing odd? – he is selling his World Cup medal out of necessity and for how much?
One estimate is £150,000 or, put another way, somewhat less than the weekly wage Rooney has so rejected so contemptuously.
So this guy left the club after 14 years, destitute and in horrible condition and this signifies loyalty? Where is his club's loyalty in providing a pension for him? Is MUFC paying his bills? That's a big no. If he's playing there today at a position where the team is strong are they going to continue to pay his salary for 10 years even though he is injured and largely ineffective toward the end? I will let you answer that for yourself, but the bottom line is always the budget and it is always king, just ask Chygrynskiy and Rosell about it. I am certain Man U were keeping him around out of the good nature in their hearts and not for some other ulterior motive. I am certain. Can you see the incredulity bleeding out of me? You should be able to by now.
When applying this to Rooney we are supposed to shake our fists at him and rue the day we purchased the Nike embroidered, Aon sponsored kit with Barclay's Premier League on the sleeve and Rooney's name printed on the back. Damn you, you selfish bastard! Damn you for wanting clarity on your future when you know good and well that the moment you tear your knee up, or break you arm, or snort crack off a hooker's stomach the club is going to drop you like an old Raul. What makes you think you deserve peace of mind and clarity? Hmm? You think you are better than those poor, pitiful board room members who have severance packages and golden parachutes? What about the Glazers, who have run the company into the ground (sort of), are you better than them? Sure they own two sports franchises and their children will inherit more money than God and Messi combined, but you are not they, you selfish prick. Outrage! Scandal! Loyalty! Terrorism! Nike!
Seriously though, all of this is just some jumbled clusterfuck of banality in the modern corporate world. Don't think Wayne Rooney gets away lightly here. He's probably a selfish jerk too, which all of this bears out. he wants what he wants, a new contract, and his club wants what it wants, to save money and make a sound investment. However, I have a very hard time backing a corporation with umpteen billions of dollars that does not want to hand out a contract extension just yet on their marquee franchise man over a guy from a working class family who looks like a fucking bulldog and Syndrome from The Incredibles had a bastard stepchild who is in his early 20s and wants clarification on where he stands. That may just be me, but I certainly hope not.
The point here is thus: There is no "loyalty" or looking out for the team in club or professional sports anymore. Make no mistake, when Puyol or Xavi are "damaged goods" so to speak, they will be put out to pasture, as it were. Either taking a place on the bench and 1-year deals to get by, or left to go play for Saint Andreu or something along those lines. I do not mean that to say that we do not love them and worship what they have done for the club, but that's just the sad awful truth of the modern game. They know it, we know it, and that's why Barça has thankfully begun to enter pension clauses in player contracts. Every player should be so lucky. It is amazing that pensions are offered, although it should be standard operating procedure for someone who sells jerseys for you and makes money so Nike keeps your club around, but that's another rant for another day. Make no mistake though, this is not the "good ol' days" when a club would keep a guy around because he was a fan favorite (if this ever actually happened, which I doubt). This is a business. MUFC would cut him in a heartbeat, with nothing to show for it but some write up in 10 years talking about how his promise was cut out too short, and he'd be living in that trailer from the Nike World Cup ad. Sounds great right?
Oh, and don't get me started on fans, and how Rooney, or Messi, or any other player for that matter, owes something to a bunch of people paying for the spectacle. Are you going to pay for Rooney's doctor bills when he is 40 and can barely move around because he ran his ass off playing 70 games a year for the club who dumped him when he tore an ACL when he was 30 (I hope this does not happen, that would be sad)? No, you won't. You will pay to watch Young Player X, and so will I. We adore players, we adore them for many reasons: because they play a style we like, or they hustle, or they score tremendous goals and cause spikes in birth rates in Spain once every couple years (that's right Iniesta, you baby-causing bastard). None of that means they "owe" us anything, especially since the majority of fans are fickle mushheads who will abandon a team whenever it suits them. If you support the team do or die, like a good number of us on the blog do, then wonderful, and we all appreciate it.
But no player on the team owes us any amount of loyalty, because in the end we are just the middle men for a product aimed at advertisers, kit production, sponsorships, land brokerages, TV contracts, and all such similar big time money-making ventures. Sure, our purchases facilitate much of this, but we still are not "owed" anything as consumers other than watching the product given to us. We have signed no deal with Rooney, and he has given no consideration to us. I do not mean to demean the role of the fan in this, but we are fairly fickle. Look how players are demonized for their mistakes against the biggest and best competition in the world. You think Villa has trouble scoring right now, well I am sure he's annoyed about it too, but he doesn't owe you a damned thing and neither does Rooney. So quiet all your talk of "winning the fans back" because as soon as he scores a game winner against Everton or a golazo against Liverpool, everyone will be back to calling out "Rooooooo!" and talking about how "they loved him the entire time." Come to think of it: He left Everton to win trophies and make more money, where are the articles out of Liverpool claiming he has besmirched the good name of their city and defamed the Beatles at the same time? Oh, and good idea threatening his life and protesting his home… That certainly shows a lot on your part.
The biggest issue here is the moralizing of the sports landscape. There is truly danger in all of this. We turn something that is a game played by girls and boys for enjoyment and then later by women and men for money or pleasure and impart it all to the greater good or evil of our society. There have probably been 15-20 sporting events in the history of humanity that have transcended sports and actually embodied something more than that, and most of them either surrounded World War II, some civil war, an underprivileged people rising up, or some other clarifying movement. Wayne Rooney moving to Man City does not qualify, sorry people. Wayne Rooney is no traitor for his actions, Julius and Ethel Rosenberg were traitors. Rooney is no horrible person, Generalissimo Franco was a horrible authoritarian person. Wayne Rooney was doing what anyone with a more limited bargaining position does against their superior, they try to turn the tables and gain leverage. It worked for a day or so, until articles came out bleating about the horrors he had inflicted on modern society and how he was threatening to subvert the English Empire as a whole.
Spots are a game that we put a lot of emphasis on, and rightly so, because they are a lot of fun to watch, talk about, expand upon, and generally make into a bigger deal than they are. That does not mean that threats should be made on a man's life when he wants to get a new deal done or asks to be transferred. he's not fighting back oppression or standing up against the evils of the world, nor does he embody them. He's a man, doing what we would all do: trying to make the most of our fragile situation before it all falls down around him. It's evolution at its finest and I for one stand by Rooney entirely.
Photo: Alex Livesey/Getty Images