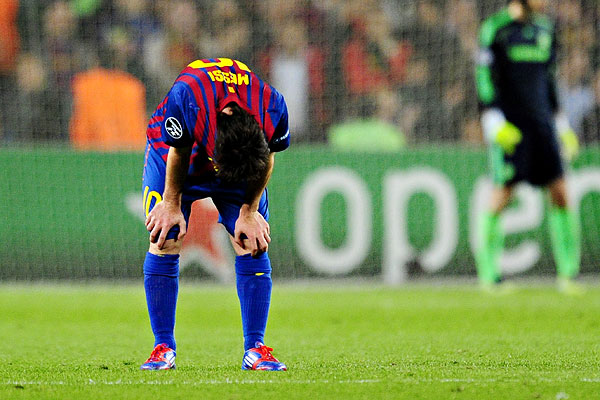 Virtually every comment on this blog over the last couple of days has been dedicated to an ongoing discussion/argument/flamewar/typofest on whether or not particular players are net positives or negatives for the club. Everyone has been involved, but it's mostly centered around Lionel Messi and Alexis Sanchez. One comment went as such (typos and orthography cleaned up for readability):
People may not realize this but Messi's non existent work rate has already reduced Neymar's chance of success at Barca considerably. It has already helped push forward Villa's transfer this summer because Villa can't make up the ground to cover for Messi's lazy bones. Just think about that for a second: we are soon to be without the services of the greatest striker in Spanish history because, at 32 yrs of age, he is required to cover twice as much ground as a guy 7 years younger.
I thought it important to ground any discussions of this nature in reality before we either blew it out of proportion as a troll comment, a Villa Fan Club drive-by shooting, or even as a legitimate critique of Lionel Messi's contributions to the team.
There are a number of ways to begin dissecting what has been said and the various viewpoints they represent, but the thing that caught my eye was the last bit: "he is required to cover twice as much ground as a guy 7 years younger." Is this true? Is it remotely true? What affect does distance covered have on the team? What is distance covered?
To begin, let's dispense with the absurd: comparing an outfield player's distance covered to that of a goalkeeper is not useful.* So we're only going to talk about outfield players. I pulled UEFA statistics from their official matchcenter, so if you have trouble believing what is written here, look through those tables. If they're wrong, I'm wrong by default. Statistics are also often skewed by small sample sizes. Take Tony Watt, for instance. He appeared for a total of 45 minutes in the Champions League group stage (and 1st leg of the Round of 16) and totaled 5,884 meters of running and a goal (against Barcelona). We can tell how much he runs per minute, but his goals to running ratio is going to be skewed. Thus I have left off everyone who played fewer than 90 minutes over the course of the group stage and 1st leg of the Round of 16, just the lessen the likelihood of sample size bias. It also made it simpler for me to look at everything.
The Statistics
Of all the players that I looked at, Lionel Messi ran the least. He ran 44,027 meters in 482 minutes of play, scoring 5 goals and getting 3 assists. Compare this to Xavi: 56,552 meters in 441 minutes. The raw numbers there are obvious: Messi is truly out-worked by Xavi. When compared to all the Barcelona players whose stats are available, Messi runs fewer meters. He played the most minutes, but ended up "working" less than anyone else.
In terms of meters per minute, Messi ran 91.34 meters per minute, compared with Cesc Fabregas' team best 136.88 meters per minute. Jordi Alba was next with 131.31m/m. Then Xavi, Andres Iniesta, Dani Alves, Pedro, Adriano, Alexis, and Cristian Tello. The last name on that list, Tello, was closest to Messi's work rate at 111.05m/m, still a solid 20 meters per minute higher than Messi.
Before we jump to conclusions about Messi's laziness, how about we look at another team to see if the differences there are similar: Celtic.
Picked at random**, Celtic has 8 players with more than 90 minutes. Charlie Mulgrew the most meters covered with 70,751 in 562 minutes. He also led the meters per minute category for Celtic with 125.89m/m. That is quite a bit lower than Cesc's FCB-best. On the low end was Giorgos Samaras with 103.97m/m. That is still 12 meters per minute more than Messi and is also only just under 22 meters per minute from Mulgrew's team-best.
A comparison with a "lazy" player: Cristiano Ronaldo logged 70,696 meters in 630 minutes for an average of 112.22m/m. He also scored 7 goals and now leads the CL in that category and got 1 assist.
On what is probably the opposite end of the work spectrum from everyone on earth, Henrikh Mkhitaryan of Shakhtar Donetsk ran a competition-best 86,671meters in 630 minutes. This amounts to 137.57m/m, substantially better than Messi, but actually only slightly better than Cesc Fabregas. He also scored 2 goals and got no assists.
What Does It All Mean?
Is Messi actually "working" less, is he being asked to work less, or does any of this matter at all? Is Messi "working" a positive for Barcelona? Looking at the stats, it appears, at least on the surface, that if only Messi ran more, he'd score more goals. He scores one goal every 8,805 meters he runs. Besides Tony Watt, that is the best conversion-to-running ratio I have found. Imagine if he ran twice as much! He'd have twice as many goals.
Except, of course that's not how it works. Given that this is a team sport, the offense is clearly built around getting the ball to Messi in particular positions. Average positioning shows Messi midway between the box and midfield. Given that he's often in the box to, you know, score goals, it stands to reason that he's just as often dropping towards midfield (that's how averages work, after all). Given this, it makes more sense that he's covering less ground than a box-to-box midfielder like Cesc, whose job is not to score boatloads of goals, but rather to create opportunities for others, defend, and generally harry their opposition into making mistakes. Xavi's mantra of "pass, offer, receive, repeat" is part of that.
Without the numbers for defenders, it's slightly harder to understand exactly how the offense functions, but given that the attackers generally have much lower average distance covered numbers than the midfielders and wingbacks (with a nod towards Pedro beating Adriano in this), it makes sense that Messi, the focal point through which everything is designed to go, has to move the least to accomplish this. Further, it's possible that Messi is being protected physically from running so that he can put on his bursts whenever he needs to without worrying about the injuries that (literally) hamstrung him early in his career.
David Villa vs. Lionel Messi
The comment that originally sparked this is one about Messi making Villa work more. We don't have Villa's numbers from the CL, so it's impossible to make a direct comparison, but it stands to reason that Villa's numbers should be somewhere between Tello and Pedro's. The hyperbole driving the original suggests twice as much, but we know that's very, very unlikely to be true. Twice as much work would best even Mkhitaryan's numbers to the tune of 43m/m, a difference nearly greater than the difference between Mkhitaryan and Messi in the first place.
Further, the idea that David Villa shouldn't run more than Messi because Messi is younger doesn't actually make any sense. Villa doesn't play CF/false 9 in a 4-3-3 system. He plays wing, where running is expected, demanded, and required for team success. Messi's movement is not independent of his teammates, but if the system is built around him, all other players become de facto support players. Xavi runs far more than Tello; does that diminish Tello's contributions because they have a 12 year age gap? There is certainly an argument to be made that Xavi is a greater contributor to the team's success than Tello, but that argument does not mean Xavi should run less and Tello more. This is the same thing that should be applied to Messi-Villa: Messi is by far the greater contributor to the team's success. This is not to belittle David Villa in anyway, but rather to point out that Villa perhaps should be "working harder" than Messi.
A personal anecdote: when I was in high school, my team had an all-state striker. His job was to score goals, which he did: 27 in 10 games, if I remember correctly. My job was to get him the ball in a position to score. This meant that he did a lot of diagonal runs while I did a lot of full-field sprints. I probably ran twice as much as he did any time we were both on the field. He played 80 minutes (2 40-minute halves in high school) while I played 10-40 minutes, depending on the quality of the opponent. I probably ran more than he did total, but the sum of his contributions were extremely tangible whereas mine (pressing, sweating) were less so. Our coach made a decision: even seniors were instructed to do the heavy lifting and just get him the ball. No doubt there were players who balked at that idea, but it worked.
These ideas are not particularly different from what is going on at Barça, it's just at a much, much higher level. The idea that Messi doesn't work hard enough suggests that him working harder would actually give the team a leg up. It might in particular situations and I tend to agree that his lack of defensive pressing has been disappointing over the last several weeks, but it's hard to pillory him for simply being so good that his inclusion on the teamsheet week-in-and-week-out is a net positive, even if he's tired.
Conclusion
Like the player on my high school team, there was no one who would play better in that position. We could have adjusted the tactics, but beyond confusing the likes of me, we would still not have been as good while he rested on the bench. Against (excruciatingly, absurdly, preposterously) weak opponents, it would have worked out, but we wouldn't have gotten the reps necessary to beat better opposition at a later date.
So it's not about "working hard" except in particular situations. I do think Messi should get more days off simply because of the sheer talent on hand and the fact that I don't believe the Copa del Rey is a competition best served by using our best 11. Even against Real Madrid. Were this a single-leg knockout competition, I could see it being worth the while (and 50 times as exciting as the CDR), but 2 legs is a lot of legs and because I value it less than both la liga and the Champions League, I don't care to expend Messi's energy on a competition that I don't rate nearly as much as the others.
The very notion of "passion" and "leave it all on the field" is fairly anathema to what Barcelona has been attempting to do over the last few years. It is a fairly British/English construct that grit and power will surely overcome technical prowess, at least on the football field. David Goldblatt speaks eloquently to this in his football history The Ball is Round: it's a holdover British imperial era public school doctrine and, by extension, the entire makeup of the British Empire. Obviously there is a need for physical ability and stamina in the modern game, regardless of technical level, but the players at Barcelona's disposal have proven repeatedly to be both. There is little need to increase "work rate" for the sake of adding meters to statistics.
Lionel Messi scores immense numbers of goals and helps the team hold onto the ball. He occasionally makes mistakes, including several in last year's Champions League semifinal that led to Barça's elimination at the hands of Chelsea. These things happen, of course, but it should be noted that Messi's mistake that led to Drogba's goal in the first leg of that encounter was after he repeatedly worked to get the ball deep in midfield. He was putting in the work that everyone wants and yet it led, eventually, to elimination.
—–
*I mean…right? it turns out that Fraser Forster, the only goalie listed that I could find, has run an incredible 32,671 meters in his 630 minutes on the field. That's nearly 50 meters a minute as a goalkeeper. Methinks he must dance a lot in his box.
**Picked because I noticed Fraser Forster had a very, very high distance covered and then thought, "Why not use Celtic?"