My brother was in the bathroom when Mark McGwire stepped up to the plate and sent the first pitch into the stands with a line-drive home run. I was watching, along with my father, and we both yelled, happy to have seen this moment of sporting history. My brother was furious at McGwire because he was almost back in the room. Roger Maris' record of 61 home runs in a year had stood for 37 years, but, as the saying goes, records are meant to be broken.
Lionel Messi recently broke Müller's calendar year scoring record of 85, which the German set in 1972. That record, if you are too lazy to do the math, has lasted 40 years before Messi sauntered onto the scene with a brilliant 365 days. The thing is, when it comes down to it, I don't care. In the greater scheme of things, Lionel Messi vs Gerd Müller is one of those statistical wankfests that a lot of people love to get into. The New York Times got in on the act, comparing Messi-Müller to Ruth-Maris because of the difference in how many games they played during their respective record-setting and record-breaking years (and all that before Messi had even broken the record).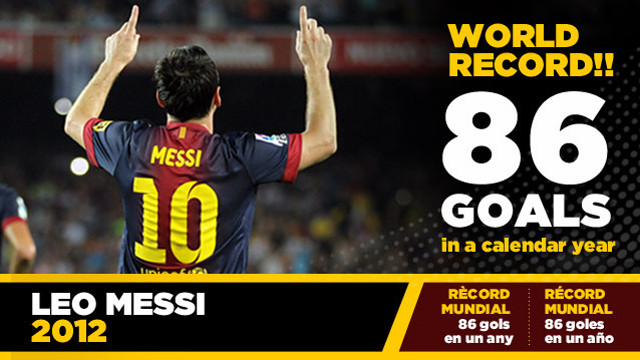 It would be fairly absurd of me to say that I statistics don't matter because most of you know that I don't think that. We even have a category for it, after all. But there is a difference, I think, in comparing meaningful statistics and meaningless ones. Baseball is an incredibly easy example given the glut of statistics that comes out of it, so I'll use this example: Runs Batted In (RBI). For those of you who don't know or just need a refresher, an RBI is a statistic used in baseball and softball to credit a batter when the outcome of his at-bat results in a run being scored. There are more nuances, but that should suffice. Roughly speaking, a lot of baseball fans get excited whenever someone gets 120 RBIs or more in a season. The record is apparently 191 by Hack Wilson in 1930. What's important about the RBI is that it obviously requires teammates to get on base before one is able to hit them in. In 2004, Ichiro Suzuki broke the single season hit record, yet only had 60 RBIs. His team went a fairly abysmal 63-99 and finished bottom of the American League West.
What's that got to do with Messi? Simple: glorious statistics do not translate to important feats. Watching Messi score 91 goals in a calendar year has been phenomenal, but not because Messi scored 91 goals in a calendar year. Rather, watching Messi play is a reminder that there is still art and beauty in this game we love so much. If he scores 3 in a match, it's a wonderful prize, but it's not particularly important to connect it to the game before it or the game after it. In some ways, it detracts from the grandness of what he's accomplishing: he is revolutionizing the way millions of people think of the sport. To put a drab number on it (91 in 365!) is to make it seem less interesting, less significant, and even less challenging. Think of it this way: "Did you hear Fernando Torres has scored 2.75 goals per Chelsea manager?"
That's a funny statistic, of course, but overall it's meaningless: Torres won the Champions League and a domestic cup last year. Messi, who had only 19 goals fewer than all of Chelsea in last season's domestic league, won a domestic cup and was knocked out of the Champions League by one of those rare Torres goals. When Messi scored 31 goals in 2010-11, coming in 2nd in his own domestic competition, the team won both the Champions League and La Liga. When Barça won the Triplete in 2008-09, it was Diego Forlan who scored the most league goals (though only by 1). In 2009-10, Messi won the Pichichi and the La Liga title. The team went out in the round of 16 in the Copa del Rey and in the semis in the Champions League.
The question for me, quite a few years later, is if I actually care that McGwire broke that home run record (artificially aided or not) or whether I care about other individual achievements in team sports. Ask a Yankees fan if they care if no one on their World Series-winning and record-setting team (125 wins, 50 losses including post season) had more than 23 home runs that year.
Messi is incredible. He is beyond incredible, in fact. His numbers do attest to that, sure, but they do not make him a great player. What makes him great is that he makes others better. Let's focus on that.