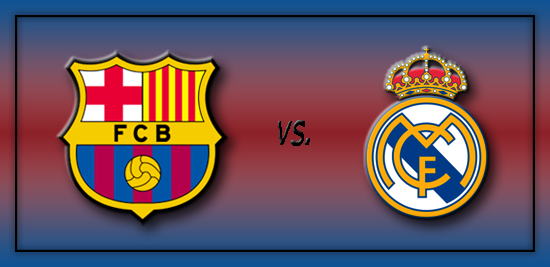 As you'll note shortly, perhaps even by the end of the paragraph, I am not very good at science or things related to science. I do, however, have a theory that there's a part of my brain that controls emotions. I don't know that that is a particularly revolutionary theory, but I think that this emotional center is somewhat like an air traffic control tower. I'm a fairly calm balanced person a lot of the time, meaning the emotional planes take off and land at scheduled intervals. Things go in an orderly fashion and the Isaiah FAA has little to respond to. I actually think brains are controlled by smaller versions of people sitting inside those people pulling levers.
Say the word "Clásico" however and there are suddenly incoming distress signals and planes taking off the wrong way down the runway. What was a clear, sunny day has suddenly been invaded by a severe thunderstorm of crazy. In order to remedy the situation, the airport either has to be shut down completely and planes returned to their origins or surrounding highways have to be used for emergency landings. The former is not possible, so now the highways in my head are completely filled with crashing planes and screaming motorists. That, in turn, causes the whole city to sort of freak out and maybe a power station goes down, causing intense external twitching.
It's only preseason—or wait, is it? We just had the Gamper and now we're playing the Supercopa, but hey, wasn't that Real Sociedad match for real?—but it's never really preseason when we're going up against our arch rivals. Oh, no, this isn't the Supercopa Catalunya or whatever. Yeah, a real clásico. There go the sirens again and the Isaiah FAA is really pleading with me not to say that again. It's like Puyol in the second Banquillo. This trophy means little, but as Kevin previously tweeted it does does allow for a general appraisal of the team early on in the season. Real Sociedad is not the strongest of opposition, so facing a truly world class side will help Tito get his bearings for the coming marathon of a season.
Because the match is on a Thursday prior to a Sunday match (at Osasuna, a typically hostile place to play and stadium where the team dropped 3 points last season) and just 3 days after a back-to-back matchup in the league and the Gamper, this should not be taken as seriously as it was last year. The scheduling pretty much ensures that that will be the case for the first match, but depending on the outcome of tomorrow's leg, the second could either be a relaxed kickabout or a hard-edged knife fight. Putting your money on the latter wouldn't be an unwise move.
What would be an unwise move is having Messi play 180 minutes of these matches, but that is exactly what is going to happen. Can't stop, won't stop. It could be his motto. The thing is, though, with just 3 substitutions, any coach has to make decisions regarding Messi prior to the beginning of a match. Either he starts and plays 90 or he doesn't play at all because he's obviously so physically fit as well as versatile that taking him out can't be justified (this is, of course, not true during international friendlies, but apparently no one believes that). So he'll play 180 minutes of these matches as well as 90 against Osasuna on Sunday. So it goes.
What also goes is that we can approach this match with a kind of righteous indignation. Our player who removed his shirt in celebration of a goal is, after all, receiving a fine more than 3 times as large as Mourinho did for physically attacking an opposing assistant coach. Seriously. That is happening. And while it's a bit of a conflation of two things, it is still true that RFEF got this one terribly. Suspending Mourinho for a few matches would have been a vague hand-wavey gesture that smacked of misplaced priorities. Doing nothing (and when you make the kind of money Mourinho makes, €600 euros really is nothing–I think Mourinho makes around €10m a year, maybe a bit more. So something to the tune of 0.06% of his annual salary; if you make $50,000 a year, that's a fine of $3) is tantamount to asking the big clubs, Barcelona included, to increase the number of such actions they take. You'll be fined 600 euros! And I bet Madrid paid the fine. Take your $3 and shove it, RFEF. It's not that Villa doesn't deserve punished under the rules (though the rule is idiotic and should be changed if not removed from the books entirely), but that Mourinho should have been made an example out of much like Dani Benitez was for his actions at the end of last year. Benitez, of course, made the mistake of playing for Granada instead of the other team on the field at the time. Whoops. None of that, by the way, excuses Benitez in any way. He should have been suspended. But so should have Mourinho and fined an appropriate amount.
So here we are, another clásico and another time to breath in the fresh smell of vitriol. Sometimes it feels like I hate it and sometimes like I can't get enough. But what I really want is a supercharged atmosphere and a clean game. A game that we can look at and say "Holy Moses Malone, that was a partidazo." One like the 1-3 at the Bernabeu–a much better game, I thought, than the 1-2 at the Camp Nou, but that one was also at least controversy free. Either would do me just fine, I suppose. A boy can dream, right?
I don't know who will start this match other than to say I would be shocked (shocked!) to see David Villa start given the amount of time he got in the Gamper. I think, though, that we'll see a massively star-studded lineup. I do think we'll see Alex Song make his debut and I do think we'll see a team looking to make a statement. Maybe Mourinho will experiment with some newfangled lineup or perhaps Tito will, but mostly I think it'll be a cat-and-mouse game prior to the lineups coming out and then it will be all guns blazing. Hopefully it's worth the buildup, such that it is. I think I'm no longer dead inside from the 4 clásicos in half a day or whatever it was. I'm glad I lived through it, but I'm also fortunate that I did. It was too much and maybe I'll say the same come October 7; for now, though, I feel ready to approach this not like an ideological showdown with the puppet-master of evil, but rather like the only truly titanic matches that we will have domestically this season.
There is sadness about La Liga this year, a lot of which is chronicled by Tim Stannard and another large chunk by Sid Lowe. As Arch Bell tweeted in response to the Stannard article, "This is why all the cool kids who want a competitive Spanish league follow the Segunda instead!" There's a glimmer of something different in Segunda: a potentially different champion. Currently it's Elche who are sitting top of the league (after just one match) while in La Liga, it's Barça. Of course.
Official Prediction: 2-2.
And because this deserves to go all over the internets again:
Image from Eurosport