(MESSI IS OVERRATED
Now that I have your attention: if you wish to participate in the BFB book giveaway, please post your predictions on the previous thread/post and NOT this one. We would like all predictions to be on the same thread. Thank you.)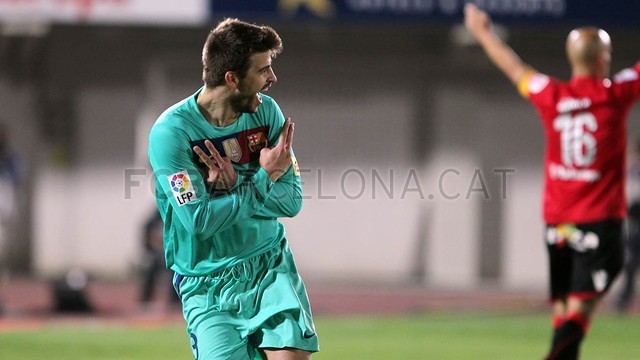 It would be unfair to skip Mallroca game and go straight to the Milan one, so some thoughts:
– Yay! Three points!
– Wonderful game from Barca under a lot of pressure. Every game is essentially a final and we were left back-less against a team who got 78% of their wins at home.
– Pique says hello to all his critics. For what it's worth I think some misgivings were justified — his lapses in concentration and judgment could have been very costly for us in the past — but most were hyperbolic IMO. And I'm not saying this in hindsight, mind you. Absolutely crucial goal at a time where he really needed to step up his game, like champions do. Keep up the good form, Geri!
– Busi.
– That pitch was a cabbage field. Players slipping and sliding like Bambi on Ice. Poor Iniesta miscontrolled more footballs this game than in his entire career, I bet.
-That said, Andres and Messi never hide do they? Thiago sent off and both demand the ball, try to make things work under pressure. Love it.
– Mascherano.
– I've done Mallorca a bit of a disservice. As most games featuring Mallorca were tight, one goal games, I had expected a bit of a dirty game from them with overtly defensive tactics. I admit it. But they had some real flair going forward with nice interplay between forwards. Their transition offensive was particularly impressive. Luckily for us, their end product left much to be desired. I'd say that's the reason why they've scored so little goals – their finishing, not for the lack of trying.
Onto Milan
So I was rewatching the November Milan game at the San Siro (that's what I do on my Sunday afternoons) and I originally wanted to tweet my thoughts about it, but it would have been far too long for 140 characters and flood everyone's timelines so I've decided to put into a post.
I don't consider myself a tactics buff, though I certainly enjoy reading such posts. In fact, it sort of scares me as there's so much I don't know, understand, or see. The below turned out much more tactics heavy than I originally had in mind, so if there are any mistakes I'd love it if you let me know.
Getting to it
It's been awhile so I'll give you some context coming into the Milan match:
– We still had Villa.
– We didn't have Iniesta due to a hamstring injury.
– Alves was suspended due to accumulation of yellow cards.
– Adriano was injured. The sky was blue.
– Alexis was coming back from the injury he suffered against Sociedad.
– Barca only needed a draw to advance.
Naturally, the formation we used was heavily influenced by the above. It should be noted that Pep and the team were still experimenting with and re-introducing the 3-4-3. [Interestingly enough, it was also the match before that loss against Getafe.]
Our lineup was a 3-4-3 at the beginning of the game: VV – Puyol – Mascherano – Abidal; Busi, Keita, Xavi, Thiago; Cesc, Messi, Villa.
Cesc was at false 9 while Messi was moved to the right and Villa was on his usual left wing.
As you remember, the result of this was very much mixed. Offensively, we could have scored at least three goals in the first half alone; there were a lot of chances created – so no problems there. The main issue was defensively where the team struggled to space itself properly on the pitch. The starting eleven included a lot of players who were used to playing in the centre (or middle) of the pitch.
Watching this match, it was very clear how much trouble Barca has when Alves isn't on the pitch, or, worded another way, how much Alves brings to the team. Cuenca wasn't promoted at this point; as noted earlier Iniesta was injured; Alexis and Pedro were both just returning from injury and started on the bench. (Full bench by the way: Pinto, Pique, Maxwell, Fontas, JDS, Pedro, Alexis). This meant we had no player to play off the right wing to spread the pitch and create additional width. In the end Messi was stationed there, like he used to be during the 08-09 season and the seasons prior.
Now Messi will create danger no matter where you put him – he's that good. However as he is developing now, putting Messi on the right flank (on the wing in general) hampers his ability to influence the game (vs. playing him closer to the middle). Specifically against Milan, because so many central players played in the starting XI, play went through the middle for the majority of the game, especially in the first half. Messi, seeing this, pinched in centrally.
This left Barca without a man on the right flank (defensively or offensively) outside Puyol, consequentially giving Milan a lot of space to attack from and virtually no threat to defend against. Big problem.
For much of the first half and a good chunk of the second, what ended up happening was Villa was doing his job and staying wide on the left but that effectively took him out of the game, as Messi and Cesc pinched in and were playing through the middle like the rest of the team. And because there was such an overload in the middle, Busi in particular was unable to contribute much.
What should have been something like the formation above ended up being something like this: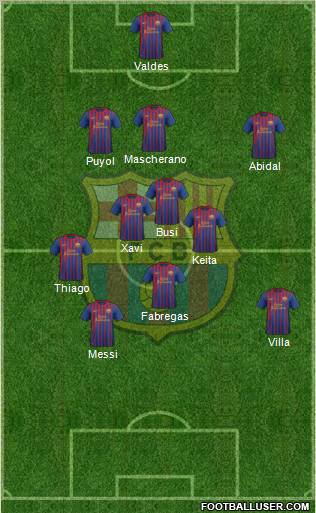 And that spacing issue was what lead to Milan's first goal. Seedorf took advantage of the space on right that had Puyol having to to defend both Seedorf and the significant space in front of him.
Ibra intelligently got between Puyol and Mascherano to score.
So why are you being such a Debbie Downer? What the fudge?
The great news is the above has largely worked itself out. Barca has learned to space themselves on the pitch significantly better. That's the whole point of this post. It was so surprising to see the contrast between this game and the game we played yesterday.
Not only is our form better but with the way we play 3-4-3 now, the defensive system issue that we had against Milan — slow transition from offense to defense when we lose the ball (aka transitional defense) — is minimized as we've learned to space ourselves out better. This is not to say we'll suddenly score a manita against Milan on Wednesday or anything along those lines; I'm merely pointing out the massive improvements the squad has made over the course of the season.
And while a lot of it is down to the incredible players we have, just as much is down to Pep Guardiola.
In a lot of ways, you can see the vision that Pep has. When Mascherano played right back against Valencia, to many it was a move that made no sense. Why experiment a DM-cum-CB at right back in such an important fixture? It had me baffled at the time as well.
But now as the season has gone on, it has become clearer – in a 3-4-3 there needs to be a player that plays at right side of the three man defense. As it is, only two players have that ability in the current Barca side: Alves and Puyol. While the former is ultra reliable in terms of fitness and form, the latter has sadly become more injury prone in the last season and a half. Fittingly enough, the same can be said for the left backs of the team [former being Abidal, latter being Adriano].
The complex part comes here: with the unfortunate situation with his liver, Abidal is out for the season (and possibly for duration of his career). This is, of course, incredibly saddening from a human perspective but it's also a big blow tactically. Abi is most likely the most important defender tactically for Barca with his ability to play both LB and LCB (incredibly rare in itself, rarer still to find real quality).
The good thing for Barca is that Adriano is still there as a back up and a fantastic player to have but he is of course injury prone. Still in the Barca squad, Puyol can play LB as can Fontas.
Though injuries are hard to predict it is probable that Pep had thought at the beginning of the season: In a situation where we need Puyol to play on the left side of a three man defense, who will be able on the right? Mascherano indeed has the intelligence, positional sense, and skill to play there — but he needs to be played there and have the time to gain experience and adjust against quality opposition.
And there lies the beauty of this Barca team: The talent of Mascherano is such that he doesn't need a large sample of games to get a hold of it – the greatness of Pep is that he can see the potential and have the gumption to do it.
Adjustments and Improvements.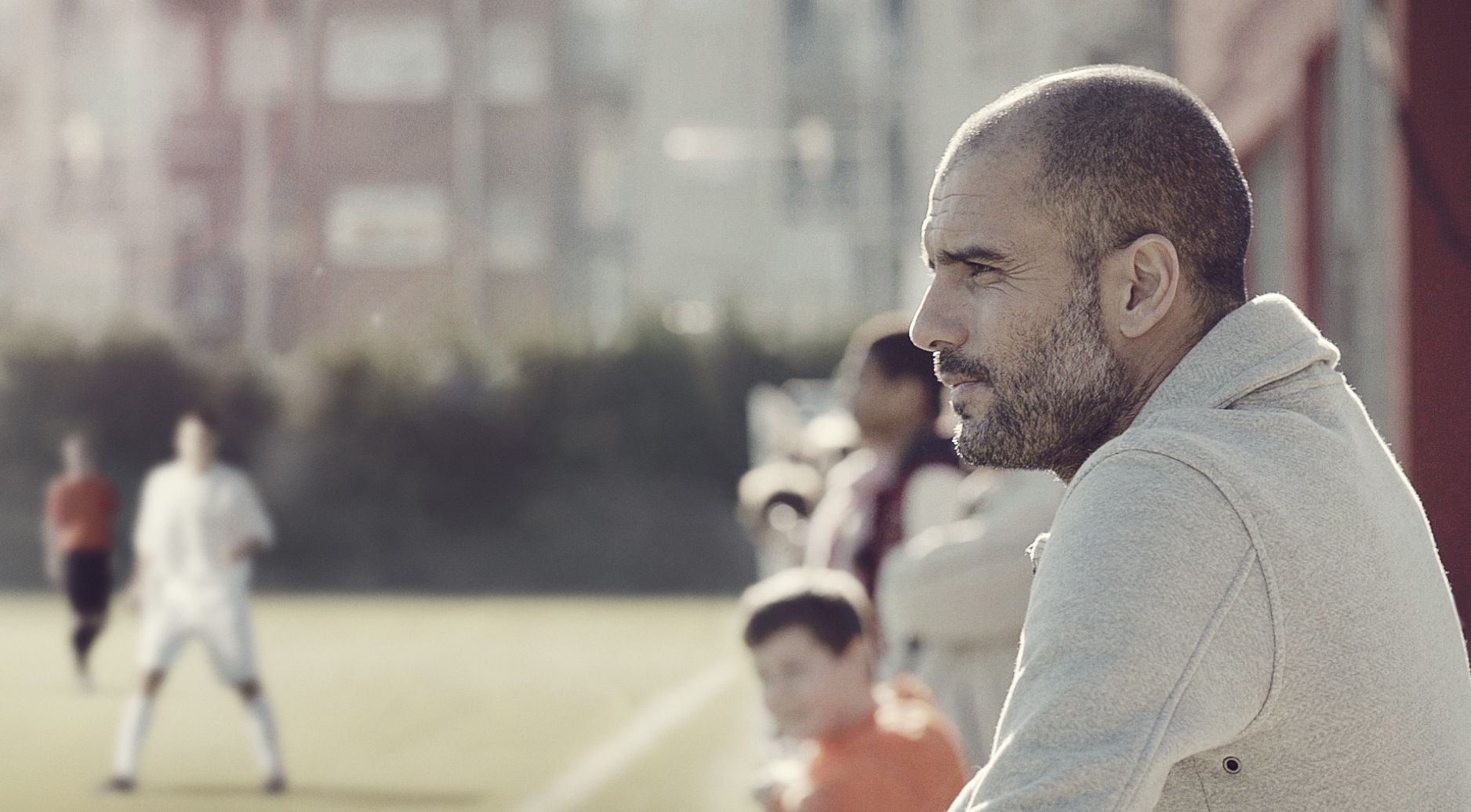 You can see Pep learning from his experiments, how he makes his adjustments to the issues that arise from those experiments. That is the most underrated part of Pep for me (putting aside how underrated he is in general). He does things so he can learn from them. If something fails, he doesn't just ditch the idea – no, it's revisited, analyzed, and adjusted so it can work next time. Masche didn't excel at right back, but he returns as a more capable defender on the right side of a three man defense.
Team in La Liga and Europe have constantly been adjusting themselves to better compete against Barca. That's to be expected. Pep's main test was to readjust – to keep the gap between us and everyone else. Because if you stand still while you're ahead, others will catch up and pass you eventually.
As aptly noted by Euler on Twitter, Pep starts with a initial idea that becomes more refined as the season goes on. This is true for both formations (which have become more flexible) and player positions (which become more refined). For example, Cesc's best position isn't at false 9. That was obvious against Milan in the November game. But it was important to play him there so that becomes clear and adjust his position on the team accordingly. As you experiment and adjust and readjust players in different positions, you're left with a significant improved draft, or in some cases, a finished product.
A big problem with a 3-4-3 is there is no spare defender, which a 4-3-3 obviously has, and that leads to problems. By experimenting with multiple formations early on in the season, Barca is now able to seamlessly shift between them over a coarse of a single match without a substitution. Which is remarkable. (Something they had trouble with early on in the season). It's especially impressive to note they've been able to limit the effect of the trade offs that come with those formation changes. Against Mallorca there were two formations the team changed between that I saw: 3-4-3 and 4-3-3. Busi operated as another CB or a sweeper in front of the defense depending on the situation.
On a similar note, to me, Pep's tactics are as flexible as his players. It's why he's constantly searching for players that can play multiple positions, rather than just sign a single player for a specific position. If you sign flexible, intelligent players, it makes it easier to readjust. Different formations and positions can be introduced and those players can adapt to those formation changes. It was for these reasons that Cesc and Alexis were signed – they're not just great in one position, but good in many. (This principal has its own trade offs of course; we're feeling the effects of one this season).
And inside the squad, though the season is not over, it's particularly important to note how much Keita has improved in the DM position. It was said earlier in the season that Keita being able to play DM and play it well would have a significant impact on our season. For one, it would allowed Busi to gain time and experience at CB. He's stepped up and done it. Hats off, Keiteee!
Other Talking Points:
– I only highlighted one issue we had against Milan. Fatigue was a large issue then as well, one that we still have now.
-Lack of pace at the back might also be a problem on Wednesday too. It's extremely likely we'll see Puyol at LB, though how flexible and improved the team is, it doesn't really seem to bother me as much as it probably should.
– Alexis in particular will have a large impact on Wednesday's game. When he came on, he caused Milan fits. And that was when he was just coming back from his Sociedad injury.
– Milangate Part 2: it's been noted many times but the team won't be able to return to Barcelona until Friday because of a general strike in Spain. At least there's no volcano and it's after the game this time.
-On a youth team note: 16-year old Jean Marie Dongou scored his first –and the winning — goal for Barca B yesterday. Remember that name.