"I don't even want to compare Messi to anyone else – it just isn't fair. On them." – Xavi Hernandez
I cannot count the times where I wish I were eloquently verbose. I wish I had the skill and the vocabulary to aptly describe the things I see. I wish I had such mastery of the English language that I could do some kind of justice to the greatest player I will ever see on a football pitch: Lionel Andres Messi. That I could write some kind of eulogy or homage that will give people just a glimpse — a taste — of amazement and joy he brings me every time I see him play.
I truly wish I did, but it will remain just that – a wish. As much as it depresses me I just can't. I don't hold any hope that I could do any kind of justice to the great man, so I won't bother. I have a sneaky suspicion that even if I could, there are simply no words currently available in any language that could hope to accurately encompass the pure joy, wonder, excitement, feelings of watching Leo Messi play football. Simply the best at what he does.
You could swear, you could scream, you could frantically text a friend/relative/significant other, you could just simply hold your head in your hands… but somehow it still just isn't enough.
Lionel Messi is the reason why I'm a football fan*. Why I bother to go out of my way to intently watch grown men kick a ball around for an hour and a half. Why I bother staying in fandom (so I can share and fawn over it with other people). To me, he is and will always be the greatest. I thought so last year, three years ago, six years ago; and I will think so twenty years from now too. That my first ever football kit is Messi's 07-08 one with the #19 on the back is a massive source of pride.
[*If you're interested, I wrote an embarrassingly long post about how I became a footy fan when I first became a mod of BFB. You can read it here but make sure you have a lot of time on your hands. When I say long, I mean long.]
I want to see him play live. Badly. The result of that game doesn't even matter. I want to say one day that I saw Leo Messi play. Live. In the flesh. But you know what? Even if that doesn't work out, I feel honoured to be born in the era of such a great. That I can watch a living legend make history in front of my eyes and say, "Yep. He really was that good."
I watched this game against Granada in the living room of my house where my mom and a guest were talking about whatever they talk about on the others side of the room. When Messi scored his hattrick, I tried to explain to them the significance and the — forgive me — the utter epicness of what just happened.
But I couldn't. I was literally at a loss for words. Nothing I said seem to be enough. So I tried to gesticulate, to move my hands frantically in all directions, as if I could palm my feelings into them, but…nada. They didn't really understand; my mom is well aware of my football obsession, but they didn't get why a short guy putting a ball in a net was such a big deal.
You know what my mom said? "Well, that's nice… I don't see what the big deal is though. Weren't you talking about that guy this weekend*? Didn't he do the same thing?"
*[in reference to Messi's nutmeg chip goal against Sevilla where I called her down from upstairs and just pathetically pointed to the screen during the replay]
Cue the "No, Mom! He did do that great thing but this is another, completely different, greater thing that is just so…great" but then I realized that to some it's just…meh. Typical. Ordinary. Routine. That to the casual viewer Messi scores goals like this all the time. That's crazy.
You know the craziest thing is?
"[Messi] doesn't just score lots of goals, he scores lots of great goals. And he does it every three days." – Pep Guardiola
And it's not just the goals too. It's not just the goals. I could give you a crap load of insane statistics (54 goals in 55 official games this season (and counting); 192 goals in 204 official games under Pep; involved in 75 of Barcelona's 148 goals this season: 53 goals scored and 22 assisted; first player in history to score 54 goals in a single Liga season) but that's just supplementary.
It's the way he play the freaking game of football. His runs, his positional sense, his workrate, his vision… In so many ways, he's actually underrated. If it were just about the goals, Pippo Inzaghi and other such poachers would be the best ever. With Messi, a goal is like another memory. (Forget who said that, but it's apt).
I know that stats are just another way to try and encompass greatness but to me they are just inadequate; lacking. You can't put the way he plays football — the feelings you get when you watch him go on one of those dazzling runs or an inch perfect through pass in traffic — into a stat. It's impossible. You just can't put feelings into a stat and that's unfortunate. Just as I wish I could put it into words, I'm sure statisticians are hoping to put it into numbers.
And it's just not enough, dammit.
Getting this out of the way, no, I've never seen Maradona, Pele, Cruyff, etc. play. (Which is unfortunate as they are greats of the game). And I don't care if he never wins that thrice damned World Cup. He's the best I've ever seen and even if someone new happens to emerge in the future he'll always be the best in my eyes.
Forgive the shameless fangirling put into post form, but Dios mio. And it's not just because he became the all-time top scorer in Barca history too. I could have written this five years ago and it would still be valid.
Lionel freakin' Messi.
"It is clear that Messi is on a level above all others. Those who do not see that are blind." – Xavi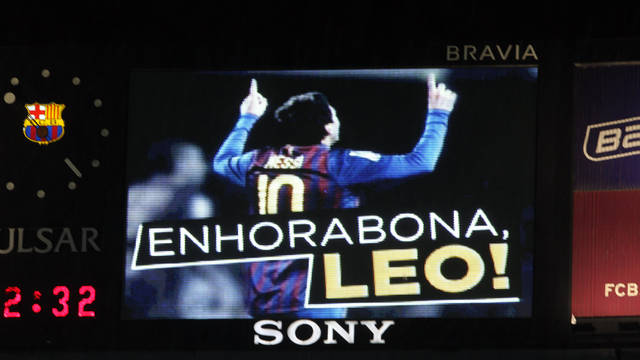 Now watch some clips.
[by fcbarcelona]
[by WizardofOx]
[by Leboakatio]
——————–
– Barca is kind of awesome too. We're coming into great form.
– Temporarily at 5 points in the Liga for those who care. (2 points for the extremely cheeky ones. 😛 )
– It's a pity that Adriano is a Robben (read: a talented glassman). Out for 10 days, so that means more Pique – who, as I've said before, is not as bad as people think but has these inexplicable lapses in concentration that could be costly. He's the most decisive player with regards to our CL hopes. If we're going to continue in that competition, we need Gerard Pique, the World Cup winning centre back. Is it because he's missing Bojangles? Or it is because he has Cesc now? Totally relevant questions, for sure.
– Glad Puyi, Alexis, Keita and Thiago all got some time under their belts too. Busi was rested too!
But enough of that, watch some Barca videos.
(Old video but still good by Lenny)
And just one more (by Leboakatio):