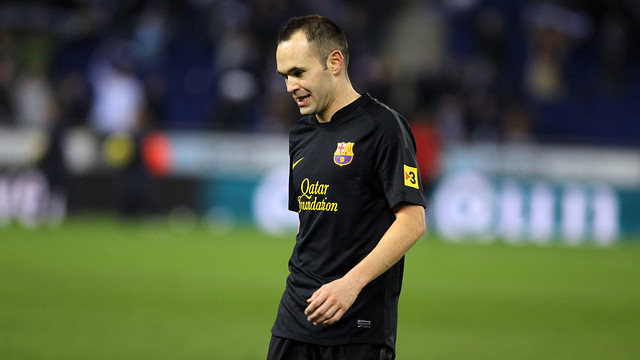 I know what you are all feeling. I know because I'm feeling the same way.
Well, actually, I don't know about you guys, but I feel like doing this:
Those Pericos. How I loathe them.
Just when the perfect opportunity to sit down and roll over nicely presents itself – really, we weren't even planning on scoring that many goals against them—they have to go and play out of their skins against us in front of their fans.
The bastards.
So Barcelona struts onto the Cornella pitch with a 3-4-3 formation consisting of: Valdes – Puyol, Pique, Abidal – Xavi, Busi, Fabregas, Iniesta – Alves, Messi, and Alexis.
It was the same eleven that started, and won 1-3, in the Bernabeu in December. Iniesta and Alexis were able to shake off their injuries (well, in latter's case, make a full recovery). There was no Cuenca, or Maxwell, as they didn't make the bench.
The match started off at a frenetic pace, which suited Espanyol just as well.
Wait…Espanyol?
What?! There's another team on the field?!
Barcelona with their superhuman tippy tappy from hell tends to make the other team seem like they're training cones. Turns out they're actually aren't.
…Yeah, I'm pretty shocked too.
Hats off to Espanyol. They made things difficult. How difficult? I'll get to that. But they definitely played out of their skins.
The concept of deserving things – goals, cards, wins, sweat soaked shirts– in football is one regarded with some disdain: you don't 'deserve' things, you earn it. And I'm hard pressed to say that Espanyol didn't earn their goal.
It was coming, it really was.
Composure, composure, wherefore art thou?
A 3-4-3 is a great formation when executed properly. You can create a boat load of chances, gain numerical superiority in advantageous places on the pitch, and score a lot of goals. However, there is one very important thing you need to make it all work:
Possession.
With possession, you can compose yourself, find a rhythm, dictate the tempo, prevent your 3 man backline from being exposed and just generally cause the other team problems while minimizing yours. It's why we love it so much, we could marry it.
But if you don't have it, 3-4-3 is a bit… risky, to say the least.
Barcelona did not have good possession, regardless of what the statistician says.
(They're probably getting lazy and already have the possession stat before the game's played, I bet. :D)
Espanyol came out with a game plan, which was: press the heck out of that team in black and turn this game into a scrimmage. Don't worry about keeping decent possession or anything impossible like that, just make sure they can't.  Stay narrow, flood the centre, and when you get the ball, don't worry about scoring on the counter. Just make sure you have more players than them when countering and work from there.
Needless to say: it worked.
Sergio Garcia and Joan Verdu in particular did a great job in drifting in between our lines. Sure, they can't finish to save a dying puppy, but it seems like Alvaro can.
It's a cliché but midfields win matches.
The main objective of our midfield is quite simple: keep the ball. From there, they usually establish the team's rhythm and dictate the match's tempo.
As mentioned above, the first half was end to end stuff. That was partly down to Espanyol's press, but our players also had a large effect.
They were far too direct today and played far too fast. And they let themselves get caught up in Espanyol dynamics and didn't try to settle the match down.
It was weird seeing our team play like they were Speedy Gonzalez on speed. (Don't doubt my similes, okay. They're brilliant.)
I didn't like it.
The Cesc Complexity
I find Cesc Fabregas a very interesting player. He's not particularly fast, his first touch isn't the best on the team, but he has a wonderful GPS in his head that probably flashes green arrows every now and again that tells him 'Hey, Cesc, move that way! You'll find space there!' and more often than not he'll do some kind of damage using that space, whether it be scoring a goal or providing an assist.
Take the goal he scored today in the 15th minute, after being denied minutes before when Messi was adjudged to have used his arm to control the ball (silly refs, don't they know he's Argentine?): Xavi shifts the ball to Alves on the right. As Dani prepares for the cross, Messi makes a barreling forward run towards goal, taking a multitude of defenders (read: two) with him. That leaves a small gap – really, I doubt we could even fit Bojan in there (if he were still here) — and Fabregas took advantage, directing a fabulous header into the bottom right corner from just inside the box.
Wonderful goal. He shadows Leo's runs so, so well.
That being said, he brings a host of other issues both directly and indirectly.
His role in the team is still a weird one. It's kind of like he's in a free role, but not really. When he's playing in an advanced position, he'll have a positive effect. However, when he's playing in said advanced position, shadowing Messi's runs or creating confusion – "anarchy" as Pep calls it, as when the opposition defenders see him they think, "Wait, when you get here? Aren't you supposed to be in the midfield?"—there's no one to support Xavi, Iniesta and Busi in the midfield, particularly during counters.
In other words, sure, we have another player up front, but we're a man short in the midfield of all places.
So not cool. And totally rains on Pep's total midfield domination parade.
So whenever we lost the ball, our transition defense (ie. When we go from 'let's score a billion goals on these mofos' to 'ah crap, we lost the ball, all hands on deck!') suffered. Badly. We didn't have enough players to defend the Espanyol ones that were streaking forward.
Added to that was Alves playing too far up the pitch in his right wing role. When he's playing that high, and Cesc is off to scale Mount Shadow Striker, he's got to make sure he's careful not to lose possession on his side. Why? Because he's only got Puyol and Xavi, who probably drifts to the middle, behind to cover. As much as I love 'em, they're not exactly the Spanish Usain Bolts. And there's only so much ground Busi's Bambi legs can cover. (A lot, to be fair, but still).
Basically Alves shouldn't lose the ball too often because he'll be too far up the pitch to run back and cover and leave poor Puyol, Xavi and maybe Busi to cover.
Problem: Alves lost the ball too often, leaving poor Puyol, Xavi, and maybe Busi, to cover.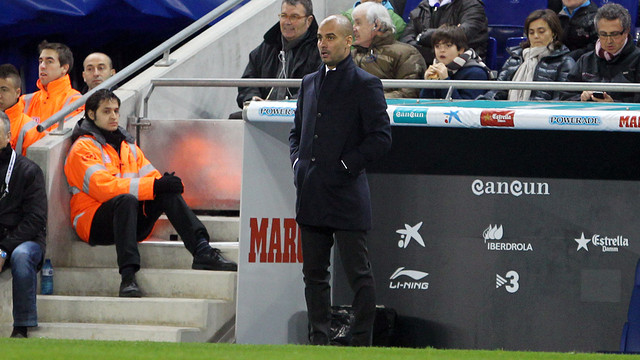 Second half: Pep tries to make adjustments
Team came out of the second half after getting their Pep talk (pun had to happen, sorry) and they kept possession much better.
And by much better, I mean slightly better than what it was before. Which wasn't much.
That had to do with the fact Alves was pushed deeper; first to the midfield, then to right back around the 65th minute. When that happened, we switched to a more conventional back 4 and Fabregas moved to the wing. It was necessary as our right flank was being overrun.
We needed to regain some lost composure. Then build a rhythm and get that second goal.
Ultimately, Barcelona couldn't. Espanyol's dynamism dictated the game and that was the Pericos' greatest victory.
Two Schools of Thought: We're all gonna die! Vs. Relax muchachos, still a long way to go
A good chunk of cules, maybe 90%, ascribe to the former. I'm that rare 10% that believes that giving up on the Liga with 17 games to go is…pretty silly.
Is it a challenge? For sure. But impossible? Not a chance.
Yeah, we'll drop points, but they will too. A draw here, an Alcorconazo there, et voila! We're back in it.
This might shock some people but…
We're still not a finished product. Experimentation is still in effect. Seriously. Just like the first half of the season saw about a billion backlines (something like 9 different ones in La Liga alone) so that we could seamlessly go from a 3 man backline to a 4 man backline with no subs, I think our second half of the season will see us doing more experimenting with our frontline, especially given Villa's unfortunate injury.
Honestly, I've always seen this season as the transition for next season when Alexis is fully integrated, we find out what the heck to do with Fabregas, and Thiago…okay, maybe not Thiago.
Penalties and Barca, like Di Maria and Staying Upright In the Box
The majority of the blame lies with us, but no one blaugrana would mind if referees didn't stop applying the rules of the game to us. We can be crap and still be allowed to get penalties. Really. First Valencia, then Getafe, and now this game…
Is it because of Qatar Foundation? Or the Coke Zero? Because that's not our fault. (Okay, maybe the first one, but that's all RoSELL man. And the cules who voted for it).
And I don't even like Coke Zero. Aspartame sucks.
Thoughts:
Pep: game-plan didn't work. Should have set them up different, like you did in the Clasico with Alexis up front, Messi as 10. And personally, I'd have put in Thiago instead of Pedro. He can play LW and still maintain possession. But I know you wanted it. Look how sad you are in this video.
🙁
Team: Not the best of games. Too direct, passes more wayward than Liverpool's sense of justice. They're human after all. Your punishment: Being in the middle of never-ending rondos, courtesy of the Barca Babies. Then having Carmona and Armando on your team when playing against them. Don't worry fellow cules, I have a heart; I need it to live after all. Conscience? I have no conscience.
Valdes: Didn't really have much to do. Some erratic passes and weird positioning at times, but awesome save in the first half when you pushed Verdu's shot off the post. That, and the save from Sergio Garcia too. Maybe could have done better on the goal, but that was an all around stinker.
Puyol: Lots of heart, full body blocks and some great covering for Alves. That said, Espanyol were prioritizing that right flank and so you were by yourself for a while. Alvaro also broke away from you on the goal. Sad face.
Pique: I liked your defending today. Great interceptions, won a lot in the air, some good tackles and that goal line clearance? Me gusta. Your passing? Could have done without it today to be honest. Missed their mark and tended to gift possession right back. Your form's improving though. Good news.
Abidal: Mr. Reliable. Espanyol took one look at you and said, "screw attacking this flank." Your flexibility and ability to play as centre back is one of the reasons why we can seamlessly go from a 3-man back line to a 4  man one. I loved that full body block in the first half on Sergio Garcia too.
Busi: I thought you had a great game. You're just so smooth. I like your deft passes. You keep it simple, and it's wonderful to watch. There was this lovely turn you did in the centre of the field in the second half that I could seriously watch all day. There were times where you were in fireman mode too and used those Bambi legs to cover great distances. Under-appreciated.
Xavi: A lot of people are blaming you for not controlling the midfield, but then those people probably don't get that you're not the one who's solely responsible for Midfield Domination ™. When you did have the ball though, you did some good things, like that assist to an assist for our goal. You also misplaced passes on occasion, which is notable only for its oddity.
Iniesta: I missed you. Oh how I missed you. Silkiest player I've ever seen. Combinations with Alexis were very nice, and one of our best players in both halves today. A selfish part of me likes that you are sometimes overshadowed a bit, or lumped together with Xavi, because then you can become subject of a cult. A fanatic one.
Cesc:  see above. What I'm reminded of when I thought of this game is a Barca youth team coach who said that he felt that Fabregas was making us too 'English' and that worried him. Interesting shout and after watching this game, I'm inclined to agree a bit.
Alves: The cross for Cesc's goal was immaculate. I see Cuenca's emergence has been keeping you on your toes. Just stop dilly dallying with the ball. Please. I know you're playing right wing, but if you're not going to take on a player, which you should have given how narrow Espanyol was, then at least keep the ball moving. The hesitation really isn't necessary. Disappointed with you today. You need to take 'Keep It Simple And Moving' lessons with Busi.
That said, incredibly saddened to hear the monkey chants directed at you. It was very clear on my TV. Shameful.
Messi: Generally, most people will be thinking, "we lost—uh, I mean, drew! Where was Leo!" Those same people tend to forget teams prioritize defending him. There will be games where it's just too much. And when he's being defended by so many players, everyone else has less players on them and are more open. His job isn't just to score and be the hero all the time. Team game, etc.
That being said, it wasn't a shining example of what he can do. Didn't have much direct effect as we're used to seeing, didn't press as hard as he could have, and was just generally meh. By his standards.
Alexis: Chut de bol, chileno! Shoot! His game was a mixed bag for me. While he was very lively, he tended to be too differential to other players. That, and when he DID decide to shoot, it took about a million years. And he didn't get it on target either. Bad Alexis. Also, take on players more.  You've got skills, bro. Use them! His workrate was as great as ever though.
Substitutes:
Pedro (for Alexis): brought on to assist in the scoring of, or actually score, the second goal. Composure on the ball isn't his strong suit, his wayward shot at the death was a scuffed one, but he could have, and should have, gotten a penalty after Raul Rodriguez's blatant handball. Ah well.
Keiteeee (for Cesc): Came on just before the goal was scored. Your sub was meant to restore some order in the midfield, and basically hang on to the 0-1 (which is always very risky) but with that equalizer the team was always going to be frantically searching for the winner. Now you're off to the ACON (African Cup of Nations). You will be missed.
So.
Some food for thought:
— In the post match press conference, our mister was almost in tears. Seriously. He had look forward and up to stop them welling up in his eyes. This Liga matters. They won't give up until it's mathematically impossible and neither will I. There was a time where Madrid was 12pts back and still managed to win the title (ugh) and in the 08/09 we had a 12 pt lead in January cut down to 1.
5 points?
The league isn't over until it's mathematically impossible. We'll fight to the end.
Our next match in the Liga is against Real Betis on Sunday (we play Osasuna away on Thursday).
Som-hi, Barca!
— Espanyol started a bunch of homegrown players, men from their academy, did that make a difference, however small it may be? Personally, yes, I think it did.
They hassled, they harangued, they moaned, they stomped – they did anything they could do salvage something in front of their fans. And for themselves. Because, well, they hate us. Sure, it's been diluted a bit by Iniesta's Jarque gesture, but the chance to put a wrench in our season is one they clap their hands gleefully at.
And… that's something I don't think Madrid have right now to be honest.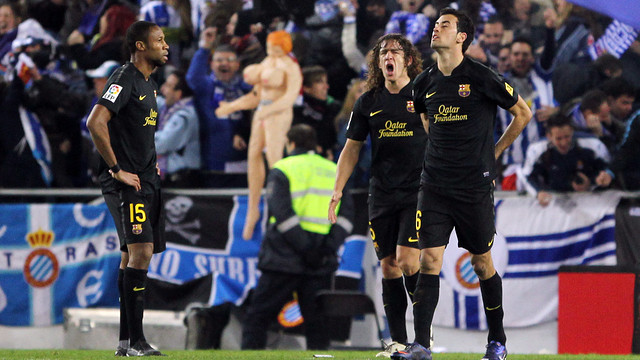 —-
Images courtesy of: fcbarcelona.cat, Yahoo! Sports.