As was previously predicted on these very pages by wise, old sage Kevin, Dani Alves will re-sign with FC Barcelona tomorrow until 2015. We attempted to contact Dani, but he was too busy celebrating: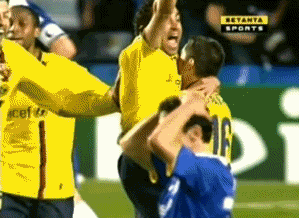 Seriously though, this is fucking huge. We rarely invoke the name of the most holy Messi as an explanation around these parts, but this deserved it. It signifies a few important points. The first of which is that Alves chose to stay. Make no mistake, Dani could have easily left for much more money at Man City without blinking an eye. Numbers have yet to be released, but City could easily double what FCB can pay. That's the oil trade yawl. He either has just settled into a good life here or he really likes the club and wants to win. I do not care which.
Secondly, this means the core nucleus of the offense is all signed until at least 2014 (Xavi has a team option for 2015). Like Nate Dogg (pours one out) and Warren G, Pep like 16 in the clip and 1 in the hole in terms of having as much talent as possible. This is not small deal because it is very clear that Pep cares more about having Dani rove forward and throw crosses or cut in than he does about having a hold-up classic 9. He likes Messi as a flase 9 and he wants to keep the team running like it is now. Make no mistake, Ibra was thrust on him, there was a reason he did not like Eto'o up there, but now, he's got the best player in a position where he's scoring 40+ goals a season on the regular. Alves is a key component, because as you all remember, any other player over there drops the play ridiculously.
So let's party, and of course as Blitzen has showed us, Dani knows how to leave the party: