[It's back, longer, less funny and probably worse than the one before it.  Just bear with it, guys. Feel free to leave praise. Constructive criticism? Nah. 😀 ]
The pay is amazing. I'm fudged. Too late to turn back now. I'm so fudged. At least it isn't tribalfootball.com. God help me.
That was what was repeating in my head as I walked through the front door of Villarato! Corp., the sports daily newspaper company…? A week has passed since I got the letter that ruined my life. I had decided to take the job; what did I have to lose other than my dignity, sanity, and respectability?
Don't answer that.
Walking to the front desk, I see that crazy receptionist again. I figure since I've taken the job, I might as well set things right. I dunno how they thought Nunna Yor Business was actually my name, but that needs to be corrected. Fast.
"Good morn—err, I mean, buenos dias!" I beam.
The receptionist looks up from her computer screen. "Hello. How can I help you today?"
"I'm looking to, uh, correct something," I say, sliding her a piece of paper with my name on it. "I'd like you to change the name listed to this one."
She takes the paper and casually glances at it. "Oh. Is that what your alias is?"
I blink. "Alias?"
"Yeah," she affirms, giving me a casual wave of the hand. "People want to hide their names all the time. It's a tough place when you're the main newspaper company of The Royal Whites. Don't worry! Happens all the time."
I suddenly have a sinking feeling at the pit of my stomach. Is she saying what I think she's saying?
"I-i think you have s-some kind of mistake, ma'am. That's not my alias. How can it be when it's my real name?"
She just gives me a knowing smile.
I resist the urge to face-palm. Again. I seem to resisting this quite a bit of late. Well, this won't be going anywhere. I dramatically bid the woman farewell ("Sarabaaa*!"), earning myself a weird look and make my way to Ixda's, the CEO's, office.
As I travel to the office of my intellectual doom, I think about my last meeting with the eccentric "company" president. I wonder why he gave me the job. It can't be for my charm and he didn't even look at my resume. It's just… weird. A newspaper that doesn't look at your credentials? Just how are they even in business?
Turning the corner, I walk down the hall. Perhaps I… underestimated them? There is no way they can be this rich—how else can they afford, or even offer, my salary–and not be shrewd in some way. They must acting inept… I bet they're testing me in some way.
I stop in my tracks at that last thought.
That must be it! This whole thing—the weird-ass receptionist, the job "interview", the aliases—this must be a testing of my mental fortitude or something sh*t like that! I bet when I walk into Ixda's office, it'll be as professional as I thought it would be.
With a spring in my step, I open the door and I'm greeted with:
That sound you're hearing is my jaw dropping to the floor. What kind of crap was I spewing when I said they were testing me?
"Ah! Senor/a Business!" Ixda exclaims, clasping his hands together in delight. "Just the persona I wanted to see!" Looking over his desk to my shocked countenance, he points to the…front page? "What do you think?"
What do I think? What do I think?
"I-is….is this for real?" I manage to stutter out, taking in the cover.
Ixda looks at me exasperatedly. "Of course it's for Real—this is their starting XI!" The "duh!" goes without saying.
I stand in shocked silence for a minute before regaining my bearings. I look at the cover again… and then promptly burst out laughing. This has got to be the single ridiculous cover I've ever seen!
Ixda stands beside me, getting more and more impatient by the second. "Well," he repeats a little more forcibly, "what do you think?"
"I think it's the more original cover I've ever seen," I say honestly. "I've never seen a front page of a major sports paper that compares their players to…what you guys compared them to." Another look at the cover sends me into another fit of laughter. Adebayor as an avatar? Pedro Leon, who looks more like a porn star in my opinion, as a tomato? Robocop?
Who thinks of this sh*t?
One glance at Ixda and I instantly know the answer. I laugh uncontrollably.
After sobering up, I can't stop myself from asking, "But I don't think Ozil is a good choice for Nemo. (Maybe) Ronaldo would be better. Or Benzema."
Ixda narrows his eyes. I had just mentioned the R word. "And just why do you think that?"
"Well…" I begin, tapping my chin thoughtfully. "The movie is called "Finding Nemo", isn't it? If Ozil is Nemo, that implies he goes missing in games and the other players have to find him, no?"
Deafening silence.
"But, uhh," I continue awkwardly, "Why are Barcelona on the bottom corner?" With Arsenal crossed out with red pen, I laugh to myself. In my head, of course. "Shouldn't they be, err, more prominent? Didn't they win a big match against a good team?"
There is a long pause before Ixda speaks up, "Do you know why I hired you, Snr/a Business?" I shake my head. "It's because we've found you really are a right bastard." I should take offense, but I find myself slightly satisfied by that. "Which is to say, you're perfect for this job. We've had a lot of Bachelor in Jornalism or Spanish/English/whatever language, but none like yours." That's because it doesn't exist. "To be honest, your degree is perfect. To be a jackass is the most important trait and credential a Villarato! Corp. employee needs; the rest is just for show, really."
Well, that explains that.
"But you still haven't answered my question," I point out. "Why does this," I point to the cover, "take more precedence and space than Barcelona going through in the Champions League?"
I hear a pen snap to my left.  Turning my head to face the sound, I'm greeted by the heated glare of one Tomas Roncero.
Great. Him again.
"'Why'?!" he bellows. Or at least attempts to; it sounded more like a squawk in all honesty. You know like when a bir—Ah, he's still going it seems. "They are the dark side. The evil in the world. That's why we wear white—it symbolizes our purity and the truth we always strive to achieve." What the hell is he talking about?
I hadn't realized I said that last line out loud until Ixda joins in. "Senor/a Business, do you know why we're called Villarato! Corp.?" Seeing my shake of the head, he continues, "It's because…Because—"
"Because we're subject to a conspiracy. Against us, of course." A voice finishes.
It's Plump Man Number 2, Alfredo Relaño.
"What do you mean, conspiracy?"
"Former Barcelona president Joan Laporta is (apparently) friends with the head of the refereeing committee, Villar," he says simply, as if it explains everything.
I don't get it.
Roncero clicks his tongue in frustration, " It means Laporta has an "apaño" with Villar." He must have seen the lost look on my face, as he continues, snapping, "Look, idiot/a, if you can't get it from a loaded statement like the one Relaño just gave you, I don't know what to say to you." Good. I hope it stays like that. Better yet, I hope you never open your mouth again—
"I first discovered it a while ago," Relaño cuts in. "It was shocking to me too. Why do you think we lose matches, Snr/a. Business? It's not because the other team scores more goals that we do," Is that so? That's news to me. "It's because we score goals and they're ruled offside. Or disallowed."
"Or," Roncero butts in, "we have legitimate penalties not given. We aren't given free-kicks when we've been fouled. And the other team never has their opposition players sent off."
Ixda decides this is a good time to join in. "Meanwhile, Barcelona" he spits the name as if he just said a swear word, "always have decisions go their way. Why do you think they are topping the table right now with 7 points? Go on. Guess."
"Because they beat you 5-0 at home and have won all their games since, while The Royal Whites have drawn or lost since that match."
They all collectively sigh. For some reason, I'm subject to looks of pity.
"It's to be expected," Relaño says harrowingly, "You don't know better. The Royal Whites are like the Empire, Snr./a Business. We have the most La Liga and Champions League titles—we've been dominating for decades—and as such, people always want us to lose." Uh-huh. Righhhhht.
"Barcelona have calls go their way all the time! Especially penalties" Roncero exclaims. And that's why Barcelona have only had one this season, right? "Just look at this!"
I scrutinize the picture. "Isn't that the one where a player was photoshoped out?"
Relaño lets out a small cough. "That's besides the point. Alves was offside and Barcelona scored! It's not fair! The lineman obviously let that call go."
I still not convinced this conspiracy really exists. (It's because it doesn't.)
"It's simple," Ixda says. "Barcelona + referees = unfair advantage. If we subtract all the refereeing favoritism, there is really only a point lead." But that means they're still ahead. "All the penalties we don't get, red card or yellows that were undeserved, or that the other team didn't get, the fouls that were or weren't called… All of it means one thing."
A blank look from me signals Relaño and Roncero to a board.
"Do we have to spell it out for you?" Roncero drawls.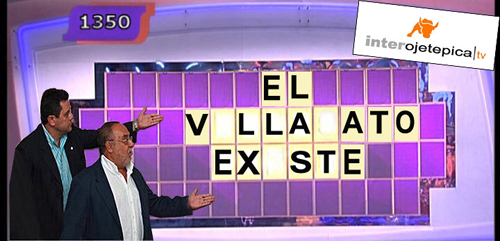 "VILLARATO" they exclaim in unison, motioning to the board, "EXISTS!"
They're insane. And it looks like they can't spell either.
"You'd do well to remember this, Snr./a Business. It's a conspiracy. Everyone wants the White Empire to fall, but you know what? It won't. Because we're the dark side," But Roncero just said Barcelona was the dark side. And I thought you wore white because you're the good side. "And we have cookies." Ixda finishes, handing me one.
I take a bite.
Cookies my ass! These are low-fat graham crackers. I spit it out in disgust. Mentally, of course.
Ixda walks over to his desk and takes out a sheet. And then another one. And another one. Walking over to me, he hands me the now pile of papers.
"Learn this. And learn it well. This is all of the decisions that have gone against us and Barcelona have gotten for them. You have the week off to learn this. If you don't understand anything, just ask Tomas."
I smile weakly. "Yeah, I'll be sure to do that." When hell freezes over.
"We'll see you in a week!"
What the hell have I just gotten myself into?
———————————————————————————————————–
* Saraba = farewell  in some language. Speakers of that language will get it, probably. I don't speak it, by the by.
Also, I don't know how long this will go on. It depends on the ideas I get…