As most of your realized sometime around 6 hours ago, FC Barcelona has made it official the signing of Sevilla Multi-Back Adriano Correia for €9.5 million up front, with around €4 million in incentives for later on. He will officially sign and take a physical on Saturday and be presented on Monday afternoon.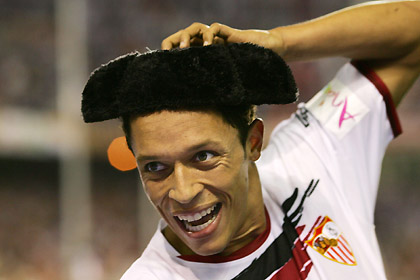 From the looks of things, this has "Pep" written all over it–come on, a versatile player being signed from Sevilla and out of nowhere, you do the math. A good defensive player who can play RB, LB, DM, LW, or RW. Some people say he can really use both feet. I don't know that anyone can actually do that, but I hope he can, because we need him. This is truly a signing of depth as he can backup about 6 or so players and is fast as hell, you know, for a change of pace. He has always given us some issues and is a solid, dependable player.
As far as versatility, skill on the ball, and depth go, this is a great signing. Adriano Correia can put in a goal or two, having scored 19 with Sevilla and already having made 216 appearances before he turns 26 in October. This signing really came out of nowhere, but looks to be a quiet steal for the blaugrana and the fans. Make no mistake, this is a depth signing, but as we have seen with Maxwell and Mr. Keita, these are almost always necessary.
Luke's Verdict: Quality signing for depth.
He will be Barça's second signing of the summer along with David Villa from Valencia for €40 million. Barça has sold Yaya Toure (Man. City – €24 million + €8 million in variables), Alberto Botia (Sporting Gijon – €0 million), Thierry Henry (NY Red Bulls – salary dump), and Keirrison (Santos – loan, 1 year).
More Rumormongering
-Apparently the Javi Martinez rumors are picking up steam, although Bilbao wants roughly $17 billion for him. If they come down to around 20 million, I'll bet we bite. He's a good one.
-Rafa Marquez is apparently going to be NY Red Bulls 3rd Designated Player and they want to use him solely as a DM. Sounds good to me. Send us a couple million, take his bulky salary and have some fun. Seriously though, I don't like Marquez, but depth is nice.
-Rosell has apparently given up the chase for Cesc for this summer. It was proving too expensive. I'll leave it at that, at the risk that this becomes another one of those posts.