Today is really about one thing: crumbling infrastructure. It may seem like it's about other things because I'm going to mention food, the Lord of the Rings, and even Power Rangers, but it's actually all about infrastructure.
As an American, I am no strange to oddly placed stadiums. In fact, it's weirder to me to see an easily accessible sports venue than one squirreled away in some suburb. The New England Patriots play 40 minutes from Boston without traffic. The New York Giants share a stadium with the New York Jets in a place that just sounds remote: East Rutherford. It's comical that it's in New Jersey. The Philadelphia Union play in Chester, an hour by public transit from downtown. Bilbo Baggins would look at the convoluted paths I've taken to get to various stadiums and balk at the journey, calling the number of buses involved too fraught with danger.
The thing about these seemingly odd choices on where to build a stadium is that they make sense when you look at the historic homes of a lot of clubs, the sticker price of the new stadiums, and the financial success of modern stadiums for their owners. It also matters on who actually pays for the stadium; in the US, there are often public subsidies and tax incentives to get teams to stay.
Even in the vastness of the United States (Spain would fit into Nevada and Utah, after all) space is at a premium in cities, so if you want an enormous complex capable of housing the number of cars required to fill a 70,000 seat stadium, you either have to move further out or pay through the nose.
Americans, weirdly enough, do both: move their stadiums to the hinterlands and pay premiums. The Giants' and Jets' new Meadowlands — MetLife Stadium per a sponsorship deal — cost $1.7 billion and still sits way out there in East Rutherford. The recently built SoFi Stadium in Los Angeles, home to the NFL's Rams and Chargers, cost $5.5 billion. Yes, you read that correctly, but feel free to read it again in case you missed it the first time. The new Wembley Stadium cost England a $1.5 billion, the same as the outlay for Atlanta's Mercedes-Benz Stadium.
It seems like one must spend outrageous amounts of money in order to compete at the upper end of sports, but these gaudy numbers are in stark contrast to the amount the same group that built SoFi for the GDP of a small country–Kroenke Sports & Entertainment–spent on Arsenal's Emirates Stadium in 2006: £390m (about £580m in today's money). It's also in stark contrast to what the revamping of the Estadio Metropolitano cost in 2017: €240 million.
Ah, the Metropolitano: new, glittery, distant. It looks nice, really, and no doubt it has upgraded amenities compared to the Vicente Calderon, but it's out in the hinterlands of Madrid. Where the Calderon had the Manzanares River and the Arganzuela neighborhood in central Madrid as backdrops, the Metropolitano has parking lots, fields, and expressways.
What Atleti has done is invest the same way other teams have done, but for far less. They found an existing stadium and renovated it rather than rebuilding it. They have easy metro access (easier than at the Calderon, at least) and no doubt if you're a car-owning Atleti fan, you find yourself driving to the match more often than before. Atleti is clearly better-run than Barça, but by how much is hard to know. Will they follow us down the garden path towards ever-higher fees? The deal for Joao Felix suggests they might, although their €261m outlay for the 2019-20 season was more than offset by €300m in player sales, €120m of which came directly from Barcelona for Antoine Griezmann. The debts from their stadium venture must either be small or none, even after just a couple of years. Not a bad investment if you can survive the initial move and somehow retain a lot of your fanbase.
In contrast to suburban stadiums, the Camp Nou is more like the Vicente Calderon: urban to its core. Situated in the middle of a neighborhood, popping up out of nowhere despite its incredible size, the stadium's location is a reminder of its past: it is a local club with roots. Despite its multi-decade flirtation with establishing an international fanbase (hello from the USA!) and the hyper-corporate approach it employs on social media in an obvious attempt to drive up brand value and other buzzword metrics, the club is still part of its neighborhood, part of its city, part of its region. This is why the Catalan Independence movement continues to use Barça as a symbol and flashpoint.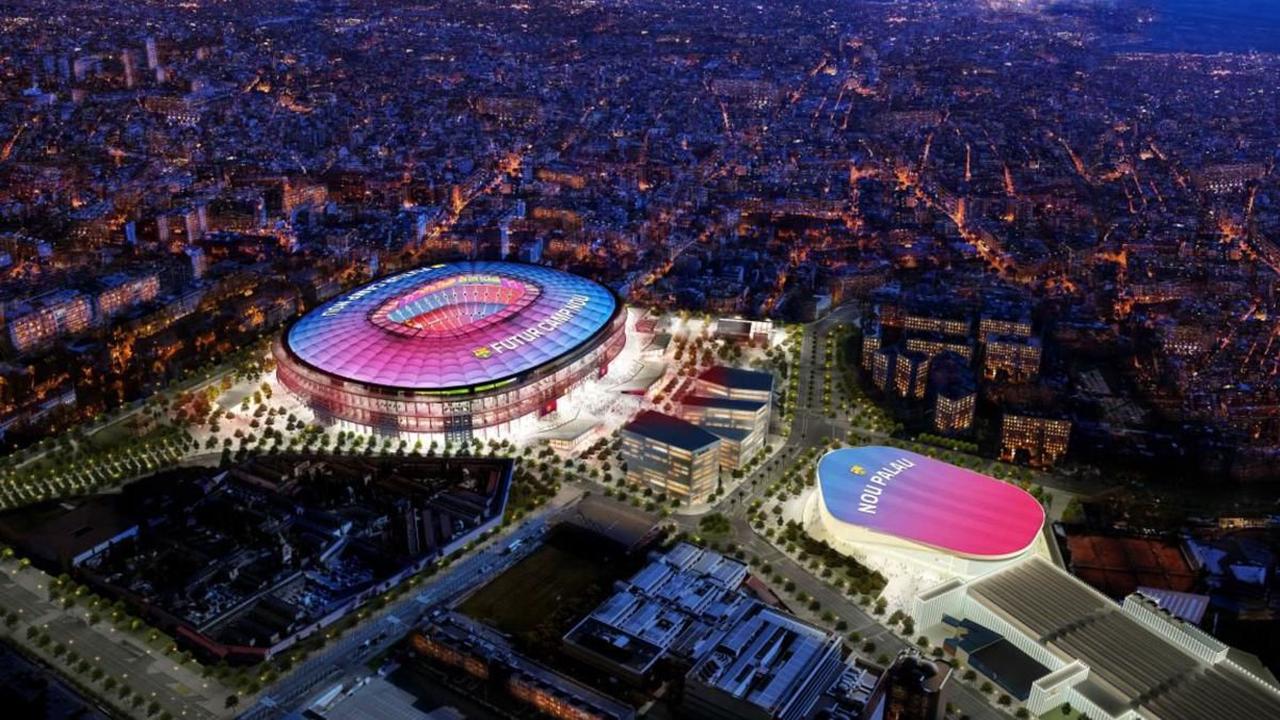 Remember Espai Barça? Sure you do: it's the albatross hanging around the club's neck it's the renovation project for the whole Camp Nou campus that has been in the works since 2007. Coincidentally, that's the year I started blogging about the club. 14 years later, the club has sold torn down the Mini Estadi, built the Ciutat Esportiva Joan Gamper in a Barcelona suburb, and inaugurated a new Masia building. The new training facilities appear to be top notch, so in some ways the project has worked, but the newly released financial information sheets from the club giving details on the 2020-21 results are, to put it mildly, disastrous.
This is a financial meltdown Valencia would be proud of. One detail worth noting is that Laporta and company have most likely frontloaded the losses onto an already a bad year. They will survive this year and then show an extraordinary turnaround in the next year. Club saviors, etc, etc. The 2021-22 budget has expected revenue at €765m, more than 20% higher than the 2020-21 budget. This little accounting trick might very well be a masterstroke, but only if they can pull it off. "It" is getting through the year with a low salary cap (€97m), possibly not being able to fire the coach because we don't have enough money to pay his compensation and not enough money to pay his replacement, and somehow surviving creditors. Further, it will probably require some tremendous on-field luck (and at least one Champions League goal). Failure to qualify for the Champions League knockout rounds would likely be a financial disaster no matter what kind of tricks the accountants in the back room can pull off.
Look at it this way: Barça will probably invest in its stadium sooner rather than later and it will be an expensive venture with a few very lean years between the beginning of the project and the glorious end of loan repayments. The graphic above doesn't break the debts down, but according to the club's statement, "the total investments made to develop Espai Barça and other extraordinary investments is 122 million euro." And that includes not a cent towards the actual stadium. This is going to be expensive.
Tottenham recently built a new stadium for $1.3 billion, making it the 8th most expensive stadium in the world. They'll likely be fine because they have cash to burn, but it's an investment in their future, in the TV money they'll gain from exposure, from the matchday income, and so on. Barça doesn't just want a piece of that, they need a piece of that to compete with the PSG and Manchester City clique.
Look, going to see a game or match or test or whatever in a modern stadium is a pleasant experience. There are better sightlines, there is better food, and there are (at least typically) better bathrooms. Top notch stadiums have incorporated public transportation into the campuses they created to suck all the cash out of you. If you can maintain the sense of closeness to the action that a lot of older stadiums have, you can get the best of both worlds: the intimidating wall of sound and the luxury box cash.
One could be forgiven, however, for wondering if this is all just another step on the way to a monolithic European Super League. Is there really a difference between the snazzy stadium on the outskirts of Madrid and those in London, Paris, and Lisbon? If you can buy from Zara, H&M, and Swarovsky anywhere you go, why not add in a sports entertainment package to your flight and hotel deal?
I'm happy to see Atleti upgrade their stadium, if that's what they want. I hope their dedicated and non-fascist fan groups are happy with the move. I never went to the Vicente Calderon, so I won't miss it, but I imagine a lot has changed for plenty of fans, whose well-worn paths to see their team were shifted beneath them. Are clubs trying to provide fans with a place to celebrate their club or simply take advantage of them through baubles?
Barça, ready or not for the return to league action, stands at the edge of a cliff, looking down. There is no bottom, it just a void. These are fundamentally broken times, for a variety of reasons, and Barça is more broken than most. And more broke to boot. It is, perhaps, useless to dwell on the financial horrorshow of the last 2 administrations, but Laporta was no innocent child when it came to financial excess during his first reign. He merely made it work through increased sponsorship, brand management, and sporting success. Remove a single leg and the table will fall. Remove all of them and you have yourself a catastrophe.
So Barça has entered what feels like terminal decline, thanks to the hubris and inexperience of its prior leaders. The showman that was elected to lead now is waving his cape and spinning his top hat, but it's a a decline marked by the classic mistake of believing being highly leveraged puts you in a good position to strike whenever the iron gets hot. Instead, no matter how great the interest rates on the loans taken out to sign Coutinho and Griezmann, you're left holding the bag when knee cartilage gives out or a player doesn't adapt as you predicted.
Barça is fundamentally broken now, caught in a vortex of debts, salary caps, and mediocre talent. The players themselves are almost all quality, but there's an insistence that they are world class when the evidence points to something entirely different. Fans need to readjust their expectations, but it's difficult when you see Ansu Fati scoring a sensational goal and celebrating with his family. He could save us all!
When (not if) Barça either builds a new stadium or revamps the Camp Nou, we will enter the place where fans (myself included) will coo about sightlines and craft brews available at the upgraded cafe/lounge/entertainment center. We will stare open-mouthed at how beautiful it all is. And we will be more leveraged, more at the whims of financial winds. Look at Valencia, look at Arsenal, look at Tottenham. These are teams that had you asked beforehand if they could withstand financial hardship, you would have said yes. And here we are, in 2021, with Valencia sitting on a €30m salary cap and the Gunners and Spurs floundering in 10th and 11th, respectively. After all, it's easy to slice yourself when you're balancing on a knife's edge.
This weekend, Atleti and Barça take the field against each other. Simeone will be there, all gestures and energy, while Ronald Koeman will be at home, or in a hotel at least, while Alfred Schreuder sits on the bench in his place. The question isn't whether Atleti will beat Barça (they will), but rather if Barça will even turn up to play. They smacked Levante around and then laid another egg in the Champions League away to Benfica; which version will appear? Levante is terrible, Benfica is not and neither is Atletico, so the good money is probably on the latter. I fully expect both Luis Suarez and Antoine Griezmann to score. Twice.
And then I expect the knives, already drawn, will grow longer. Whether the club can afford to fire Koeman remains to be seen, but it's fairly clear that it cannot afford to keep him either, just for different reasons. All the doom-and-gloom statements to the media might weigh on the team — Sergio Busquets spoke to the media after the Benfica loss and said things were very difficult, but neither supported nor attacked Koeman — and the longer Koeman sticks around, the worse it could become. There's always the chance that the magic formula will be found, but that seems increasingly unlikely to happen.
The thing is: Koeman is right. The squad is garbage. It was assembled by a kid who had nearly unlimited funds and no idea what any the numbers meant. Coutinho? A fancy bauble he'd seen on TV and just had to have. Griezmann seems to have negged us and we fell for it. Dembele has been perpetually injured, but we overpaid for him anyway, simply because we had more money than sense. Don't get me wrong, he's incredible and I love watching him play, but we overpaid because the risk was on us.
Let's be clear, though: the squad is garbage, but the players are very good. The obvious thing to do would be to meld all the disparate parts into some sort of Megazord lineup, but it turns out that alchemy is still very much a work-in-progress or maybe we would have seen an outrageously good Barça that somehow utilized whatever it is Sergi Roberto supposedly does better than Mingueza or whoever else he's starting in front of on a regular basis.
Simeone must be watching the tape, seeing the gaps in midfield, and giggling. Does Simeone giggle? Is it just snarling, but somehow it's happy even if it sounds just like the angry version?
3-0, Atleti.
Maybe the team should move to the suburbs. And hire a coach who will impose himself on the team rather than lament what he's been handed.