Power, lust, glory. Lies, deceit and treachery. All is fair in love and war. And while some of us truly don't care who wins the Game of Thrones, others are on the tips of their seats. After all…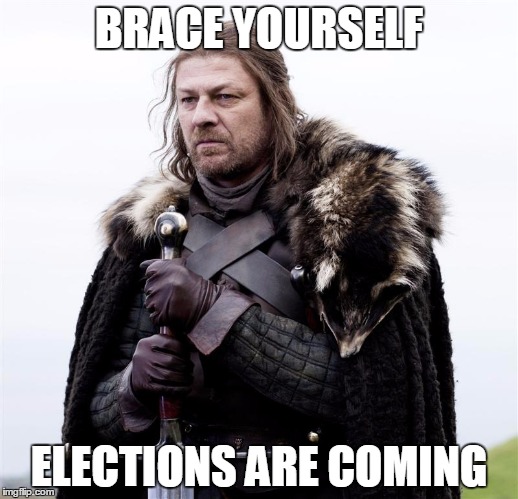 "I learned how to die a long time ago."
That's good to hear for Jordi Majó and Benidito Augusto. Since they have experience with losing elections, it should hurt less this time.
"Chaos isn't a pit. Chaos is a ladder."
Not all despaired after the second half of the season got kick-started in the teeth with a 0-1 loss at the Anoeta. The president called for elections, the technical director got the axe and the coach's future was hanging by a thread. Ex-spokesperson, ex-secretary and ex-president of the disciplinary commission, the board member that just refused to give up, was of a different mind. Where some see crisis, others smell opportunities. May I present to you the presidential candidate Jordi Freixa?
"The things I do for love."
Jordi Farré, the candidate from Som Gent Normal,  ran away from home at the age of 11 and traveled all the way to Sevilla. The reason? To attend the European Cup final against Steaua Bucharest after a friend had gotten him a ticket. How's that for culer credentials?
On December 22, 2012, then vice-president Josep Maria Bartomeu revealed on the Catalan radio station, RAC1, that Eric Abidal's new contract was drawn and ready to be signed as soon as the majestic French defender, who was recovering from his battle against a life-threatening cancer, played his first game. It all ended in tears, as only six months later Abidal was told there would be no place for him in the next season's squad. A baffling decision, not only on a humanistic level but also on a strictly football technical level. While Eric had always remained on speaking terms with the board that discarded him, his decision to join Joan Laporta's merry band of anti-Barto's is telling. Will he make a good technical director? Nobody knows. Since he has no experience at this position at all, his appointment seems to be for purely electoral reasons. If Laporta wins, we can only hope he will surround his new chief of sports with the right people to teach him the job.
"One voice may speak you as false, but in many there is always truth to be found."
Here's to Sport, Mundo Deportivo, COPE and basically all and any media outlets in Barcelona. Sport puts Angel Di Maria on the cover, so Mundo informs us the Argentinian has an "anti-Barça" clause in his contract. Mundo reports that Turan is definitely signing for Barça, so Sport says his agent is currently in talks with Chelsea. In the Game of Thrones, pawns are put into play. One thing's for sure though: any editorial by Santi Nolla is written by Santi Nolla… Probably.
Young, skilled, powerful, fast, tall, dark and handsome, the best thing to come out of France since du pain, du vin et du boursin, Paul Pogba has been the most wanted player in world football for some time now. Both Bartomeu and Laporta claim they'll land his signature. Barto hints he has a preliminary agreement with Juventus. Jan says he's good buddies with his agent, Mino Raiola. Until they are elected, what would they not do for a picture with mister Pogba?
"Power is power."
If he were so inclined, he could be star player, coach, assistant coach, sporting director and president of the club, all at the same time. There is only one man who stands head and shoulders above the rest at F.C. Barcelona and that is Lionel Messi. He only needs to speak out in favor of a candidate. Luckily, Leo doesn't care much for politics, but make no mistake: one nudge of the head or a slip of the tongue and the next presidency is decided. Only once has he ever spoken out against a board member. Y'all see Faus anywhere in Bartomeu's new team, anyone?
With a foot out of the door ever since the first journalist asked him a question that started with a word, Luis Enrique no longer looked happy in Disneyland until he walked out of the gates with a mouth full of cotton candy and more stuffed toys in his arms than he could carry. To the rhetorical question whether he was coming back next season, he simply replied that he hadn't decided yet. What he meant was give me full control over which player comes and goes. And so Aleix Vidal and Arda Turan are or will be signed, Deulo and Monty are out the door and Bartra, Pedro and even Adriano are stopped from leaving. All on Luis Enrique's orders, I mean, requests. Oh, it feels good to win a treble.
"I shall wear this as a badge of honor."
Every single candidate speaks of the importance of La Masía. In the meantime, no player has broken through since Pedro and Busquets, both of whom started getting minutes under Pep Guardiola in 2008-2009 and broke through in 2009-2010. It is true that the academy has not produced any starters since then, but these things go in cycles. Besides, during the first half of this season, Masía product Munir El Haddadi was a regular starter and Sergi Samper started a Champion's League game. And while also true that Barça B was relegated to the third division, the last two players that made the jump to first team starters came from the third division. In the meantime, Pedro and Busquets are still here.
"The man who passes the sentence, should swing the sword."
All candidates not named Josep Maria Bartomeu have made it very clear: should they win, they will break with Qatar.
Ok, so Johan Cruijff didn't actually go out and say that, but it is the type of shit that Johan Cruijff would say if he were a character in the Game of Thrones. Since he's not, the Dutchman limited himself to saying that if Laporta doesn't win, Barça lose. Well now, he never limits himself when it comes to saying stuff, does he? Other choice quotes are that the club has lost its values and that the Masía no longer produces any players.
"The mad king did as he liked. Has your uncle Jaime ever told you what happened to him?"
The longest standing president of F.C. Barcelona, construction magnate Josep Nuñez did as he liked and ended up incarcerated at an old age for trying to bribe local tax officers. Seen by many as the continuity of Nuñez, Rosell and Bartomeu will join him behind bars if found guilty in the Neymar case. Promise me you'll listen to your uncle next time, boys.
"Power resides where men believe it resides."
Jan Laporta does not mention the name of Bartomeu without adding "and Rosell." Benedito Augusto claims Sandro is hitting the phones to urge socis to vote for his man. I hope it's not true, but I'm afraid it is true and the opposition candidates are trying our hardest for us to believe it is true. Rosell is the power behind Bartomeu.
If he wants a shot at this, Josep Bartomeu must put as much distance as possible between himself and his former best pal Sandro Rosell. The official reason for the latter's resignation was that he feared for his life. No, not from white walkers but from culers with bee-bee guns. Either way, the ex-president remains extremely unpopular and for Barto to ride the wave of trebleness into a second mandate he must convince enough socis that he has broken with his mentor's evil ways.
"What the hell do you know about being a bastard?"
The Managing Committee stand accused of foul play because of negotiating a deal with Turkish star player, Arda Turan. Only a Board of Members can make this decision, say the opposition. Of course, the election is not until July 18. The preseason starts on July 13, the player has been pursued on express wishes of our coach and in the meantime, clubs like Chelsea and PSG are also pushing for his signature. Atletico M*drid needs to allocate funds in order to sign a replacement. They've also caught flack for selling Deulofeu, a player nobody in their right minds wants to keep and certainly not the coach of our team. Let me give you some advice, bastard. Never forget what you are. The rest of the world will not. Wear it like armor, and it can never be used to hurt you.
"The common people pray for rain, healthy children, and a summer that never ends. It is no matter to them if the high lords play their game of thrones, so long as they are left in peace… They never are."
While all culers take great pride in the fact that the members of the club elect the president, the percentage of soci's who couldn't give lady rat's twat about the elections is larger than you might think. Yes, democracy is a beautiful thing. But it means that the most beautiful club in the world is also the most divided club in the world. Left in peace, indeed.
Need I say more?
.
.
.
.
.
.
.
.
.
.
.
.
.
.
.
.
.
.
.
.
.
..
.
.
.
.
.
.
.
.
.
.
.
.
.
.
.
.
.
.
.
.
.
.
.
.
.
.
.
.
.
.
"You know nothing, Jon Snow."
Of course, no matter how dedicated to the cause, John Snow would be me.