So Kevin already summed up the majestic affair from yesterday quite nicely so you can read it here (if you haven't already). This here will be a sort-of breakdown of the general tactics and other such things.
It went something like this:
1. Barcelona came to the Santiago Bernabeu in a decisive game.
2. Barcelona won at the Santiago Bernabeu.
3. HAHAHAHAHAHA.
Okay, okay. It was a tad more complex than that, I'll give you that. Maybe it was a more like:
1. Ancelotti comes with a game plan that plays to his team's strengths and the other's weaknesses.
2. Martino comes with a game plan that plays to his team's strength and the other's weaknesses.
3. Neither really adjust to each other.
4. Quality of players proves to be the difference.
The last point is often debatable. The old football adage is when teams win it's down to players; when teams lose it's down to the coach. On the whole, that's sadly true. But in the case of this specific game it was really down to the individual brilliance of the players and their ability to overcome system deficiencies through sheer force of will.
They came against a faster, stronger, taller team that was tailor made for their downfall and essentially said, nope. We're winning this one no matter what. It's a team of champions and the ability to compete at the highest level and come out on top is nothing short of extraordinary.
But enough of that. Let's get down to game. 😀
Overloading the right flank: Di Maria runs rampant
Ancelotti's game plan was this: use Di Maria's pace to flood Barca's right flank – that's traditionally been the most offensive-minded and thus the most vulnerable – and take advantage Mascherano's short stature. Xavi lacks the speed to keep up with him, and mostly likely doesn't want to get dragged too wide, and with Alves defending Cristiano Ronaldo (supported by Mascherano) he was left to run amok mostly through his dribbling and crosses. The idea to play an extra midfielder on the left (who was initially supposed to help track Di Maria in the first place) ended up playing into RM's hands.
Tata largely didn't have a response. Once it was clear Di Maria would be supplying crosses, it would have made more sense to switch Pique and Mascherano,  the former's height an obvious asset in defending crosses. But perhaps Tata didn't want Pique against CR – whose pace is often a problem for a slower Pique and  was often marked by Puyol (when fit)as a result, which was why Mascherano was suited up against him in the first place – and felt he was better suited to match up against Benzema. Perhaps he just had faith his players would take advantage in other areas and left it alone. Either way, it was a risky decision and almost cost Barça the game.
Let's take see an example here:
RM 2-1 Barcelona; Lilliput Under Siege
It starts with Di Maria receiving the ball in space.
Who's marking him? Good question. In theory it should be Xavi, but with Di Maria that wide that goes to Alves. Meanwhile CR temporarily switches to the left and makes a run so Pique tracks him. That leaves Mascherano with Benzema, who is behind him, to defend the incoming cross. We know the result.
You could argue Pique just stopped, and many have, but it's not actually Pique's job to defend that. He's marking CR and he can't simply leave him to deal with it. It's on Mascherano's side (i.e. the ball side defender) and it's on him to defend it. That said, RM know Masche is not the tallest so they purposefully go for crosses on the right side. It would be ridiculous to bash Masche for being short. If he could grow a couple of inches, he would. But it is a weakness, the exploitation of which became the basis of RM's game plan.
Ancelotti leaves spaces between the lines uncontested: Arrivederci Xabi, from Messi with Love
But football is a chess match and while Barça did concede the right flank to Madrid, Barca were given acres of space on the left flank as well as between the lines;  areas where Barca process the two best players in which to take advantage: Messi and Iniesta.
Coming in to match, RM expected to blitz Barcelona and it showed it the way they set up their team: none of the double pivots we were used to seeing nor any CBs moving to the midfield to deal with Messi.
And that's the thing. This was the first game we've seen in a while where Madrid didn't really do anything to stifle Messi (outside the usual). Ramos, Pepe, and Alonso were the usual culprits in trying to defend him but there was none of the narrow play that was commonplace in other Clasicos. I could almost hear Ancelotti thinking, "Leaving spaces for Messi to play in? Eh. We'll just score 6 billion goals. Ain't no thang."
Underestimate Lionel Messi, will you? We'll see how that goes for you.
In fact, let's see that in action:
RM 0-1 Barcelona; Undone by Positional Play and Genius Passing
This goal came off a lovely 20+ pass move. (Just as an aside: when people wonder why Barca 'pass the ball around' so much it's for reasons like below. They move things around so players are out of position, markers don't know who to mark, and spaces open up.) I'll start towards the end of the sequence with Pique stepping up from defense to play a pass into Xavi.
There are 4 things I want you to focus on and remember when Xavi receives the ball:
Which I'll highlight in next four screenshots.
(1) Ramos moves up to track Neymar.
(2) Messi makes a run across. Pepe tracks him.
(3) Marcelo keep an eye on Fabregas (underlined in red) supported by CR (underlined in yellow) who is also mindful of Alves (underlined in blue).
(4) Bale marks Iniesta.
Alright. Now that that's set up, in this next screenshot:
You'll see Cristiano has committed to Fabregas so Alves prepares to make a run. Xavi sees the space between Carvajal and Pepe open up and starts a run as well. Carvajal, seeing this, moves to close down the space. Meanwhile Bale points to the space he's supposed to defend.
What happens next:
Xavi continues to make his run. Newcomer Modric tracks him. Fabregas passes the ball to Messi with Alonso, Pepe, Ramos all in and around him. Meanwhile on the left Marcelo has to keep his position with Alves free in space. Iniesta makes his run. Bale stands ineffectual.
The madness (which clearly has a method only Barca understands) continues. The result is the RM defense collapse around Messi. We've seen this one before. Messi does what he does best and plays in Iniesta with a perfectly timed pass.
Iniestazo occurs.
RM 2-2 Barcelona: And Messi shall pass Ramos. Again.
So much to say but I'll just leave it in video form (courtesy of HeilRj):
http://www.youtube.com/watch?feature=player_detailpage&v=FPHU6hbXCb4#t=251
(Gets body checked by Ramos, still scores.)
Making Sense of Cesc
I spent some time keeping an eye on our #4 trying to understand what exactly he was doing most of the game. The consensus seems to be he was playing a free role, like he tends to do in these games, which I agree with. He was there for basically two reasons; to wit: for his skill in the counterattack and to be (essentially) an extra player in the zone he happened to be in and the zone largely depended on where the ball was.
(1) Cesc in offense: plays a beautiful ball from deep for Messi.
(2) Cesc intercepts a pass from Modric and plays a great ball for Neymar in a quick counter attack.
Cesc in defense: right place at the right time to receive Di Maria's pass. (hehe)
Cesc wasn't actually marking a specific player. At times he was supporting Neymar and Messi (the only two forwards) up front, at others supporting Xavi and Iniesta (who often dropped back to add an outlet on the left side of midfield) as well as helping Busi help the defense. (A wise choice.) That has its pros and cons: if Cesc doesn't really know who exactly he's marking, the opposition has no idea either. But it also meant he wasn't particularly dangerous offensively since he was just there as an extra man and he wasn't decisive defensively since, again, he was just an extra body.
That's not to say he wasn't helpful (he dragged defenders away from our forwards quite well, as shown in the first goal) but it means that his impact was pretty minimal. Playing Alexis you would've had the same effort but with the bonus of having an offensive threat on the LW where there was so much space, particularly after the red card. (Then again with Andres scoring goals now….)
A free role work great for Liga sides where Cesc's intelligent runs offsets his tendency to give away the ball, so it won't be a glaring issue. But against top sides it'll be more noticeable.
Neymar Negligible?
One of the talking points of the game was whether Neymar have enough of an impact to warrant his starting position in the game. I thought that while he didn't have much power or accuracy in any of his shots, he was quite adept at getting behind the defense and Ramos was certainly concerned about him for most of the game, probably remembering how Neymar scored the opening goal and assisted the winning goal last time around, so it makes sense he solves that problem by getting sent off, eh….
So the verdict for me: not bad but not match fit, so his substitute should have came in earlier.
Don Andres Iniesta
I'll be completely honest with you. I sat for a good ten minutes trying to write a short paragraph/eulogy in honour of him. I just couldn't get anything down.  It didn't seem like enough. I'm truly speechless.
Just a saying: an Iniesta that scores goals….
Xavi and Busquets
They didn't get much notice in the post game but I thought they were fantastic when called upon. What semblance of control Barca had were largely down to these two. Xavi had more passes than most of the Madrid midfield combined and while some will dismiss that as common "sideways" passes, let me remind you what the lifeblood of the sport is. That is how you control a game.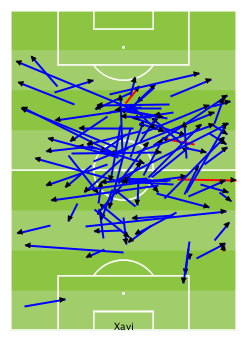 Piquenbauer and San Valdes
An excellent game from Pique who had to deal with RM taking advantage of our short squad. We expect our defenders to be able to handle Cristiano Ronaldo one-on-one (contrast that with Messi who we expect to be able to defeat 3-4 RM defenders). Just because CR or Di Maria get the better of them doesn't mean they suddenly suck. It just means that the fact they had often had them under control  in the past should be praised.
On the same note, it was Valdes' last game at the Bernabeu in Barça colours. I'm glad we could send him off if not with a clean sheet then with a thrilling victory.
A Bad Day for Arrogance
Madrid players were talking the other day to El Pais that they feared Iniesta or Eto'o more than Messi and that they would essentially destroy Barça.
The cycle continues. 😀
(Although it could really use some help, stupid board)