Champions League Quarterfinal, Leg 2: Barcelona vs Paris Saint-Germain (2-2 aggregate)
If the preceding matches are anything to go by, tomorrow's encounter with PSG will be anything but a sure thing. Dortmund left it late and offside (but then again so too Eliseu), but were able to pull one out in dramatic fashion. Galatasaray were unfortunate enough to go into this match without away goals and led 3-1 into the dying embers when another Madrid goal sealed what was probably already sealed. That Drogba goal was ridiculous, the reffing was absurd in the Dortmund match, and Barcelona enter without a true lead in the contest. Losing with any score means adios; 3-3 and higher is goodbye; 2-2 is extra time.
This is what we expect out of a quarterfinal, of course and while Barcelona are in a good spot (don't concede 2! don't lose!), it's far from an easy task. Thiago Silva's return from injury, Zlatan's continued existence…these things make it difficult. Beckham will start, Ancelotti says and that may be the key, if indeed the crowd can convince the team to play anything like it did against Milan. Ancelotti will have to be further complicit, though, and sit back in a situation where he can't really afford to do so. He'll need to take the game to Barcelona at some point, but perhaps pushing his line up high is the way to do that. Suffocate the tiki and the taka will collapse with it.
But no one really cares about what PSG will do. No one really cares about who they'll play, how they'll line up, or whether they'll wear white, though that last bit might just be suicide. Everyone just wants to know one thing: Messi, sí o no? Given that Mallorca was badly whipped by a side not involving Messi, there will be those who wish to rest Messi, or at least keep him on the bench. Others will rightly point out that PSG is hardly Mallorca and we should act as if Cesc and Alexis will simply waltz through them, scoring manitas left and right. So what should it be?
Now that Messi has suggested he wants to play, feels good, and is fully capable of playing, it's up to the doctors. We, as fans, must trust that there are those who understand Messi's body and the hamstring muscle in general better than we do. And if you happen to be the type of person who understands hamstrings better than most or all top level trainers, then you'll know to look for their okay anyway. So if Messi receives medical clearance to start, start he may, with few grumbles from this opinionated armchair analyst. I'd rather see him kept on the bench in case of emergency–break glass in case a goal is required, but try to avoid hurting Adriano in the process!–but again, if he's cleared and 90 minutes isn't a problem, okay.
Another thing: Wolfgang Stark, notorious Barcelona fan responsible for one of Mourinho's por ques, has been suspended by UEFA for the rest of the Champions League because, frankly, he and his crew blew a bunch of calls in the first leg. Yet it would be absurd to think that anything other than simple errors were involved. And it would be absurd to blame Stark if Barcelona is eliminated tomorrow. Galatasaray has more to complain about, really, and no doubt they're doing so (and I'm sure Mourinho is riddled with guilt about el escándalo del Bernabeu, part deux), but it all smacks of conspiracy that doesn't become an institution as privileged as Barcelona. Official complaints to UEFA are fine, they're a matter of course (grandstanding press conferences are not a matter of course, however), but moaning about reffing before a second leg is boring. I've heard enough out of you, Twittersphere!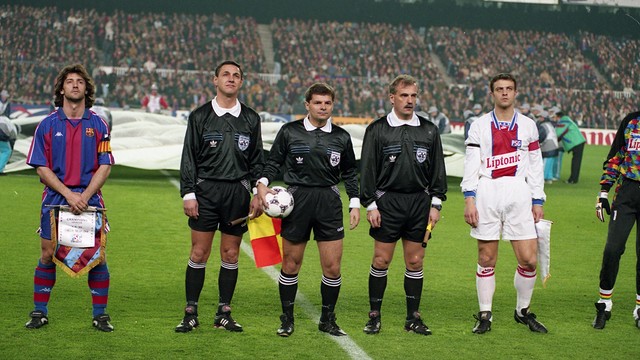 Further questions: Cesc, Pedro, Villa, Alexis? If Alexis has the green light, I say play him. He's been rather good recently–not just against Mallorca but throughout the last few weeks. Cesc certainly earned himself a starting spot with his absurdly good display on Saturday, but only if Messi doesn't start. I simply don't see there being enough space on the field for both to fully play their roles. The other player I'd start is Pedro, for his whirling dervish defensive abilities as well as for Villa's super sub capacity. Tello is also a substitute if needed, but his skill set is more out-and-out attacking, something suited for something needs scorched rather than the slow cooking portion of match. The human equivalent of afterburners, if you will, rather than Xavi's metronomic cruise control.
If you're troubled by the team's reliance on Messi, look no further than Michael Cox's excellent statement over at ESPNFC:
The secondary issue with "Messi-dependencia" is that he dominates Barcelona too much and to the detriment of their other attacking talents. Of course as problems go, this isn't particularly troublesome — every other club in world football would thoroughly enjoy having "the world's best player being a little too dominant" as a major discussion point. It's the equivalent of having so many $100 bills that you're forced to leave some $20 bills at home, simply to make space in your wallet — you wouldn't exactly complain to your friends.
Not too shabby.
Before we go further, the squad: Valdés, Pinto, Alves, Piqué, Fàbregas, Xavi, Villa, Iniesta, Alexis, Messi, Thiago, Bartra, Busquets, Pedro, Jordi Alba, Montoya, Adriano, Abidal, Song, Tello.
The problem here is that we've got another question to deal with now: who to play in defense? With Puyol and Mascherano both injured, do we start Bartra, Busquets, Song, Adriano, Abidal? The last name on that list is probably out. It seems too soon to expect 90 minutes of him and we can't afford to have an automatic sub in defense. So he's out. The first name seems too inexperienced against players like Pocho Lavezzi, but the second and third seem to slow. Not that Song is truly slow, but Busi is, and anyway Lavezzi is capable of turning quicker players like Mascherano. So Adriano seems the best choice…except he's injured. Yes, he's in the squad, but he's hasn't received medical clearance and unless there's some serious gamesmanship by Tito, he might not be able to play. The same is true of Alba, so if the choice is between Song and Busquets, the question may very well hinge on comfort: Busquets should start at CB and Song at DM. And yes, I shuddered just a tiny bit there while typing that.
So, what shall we see? I think PSG will come out of the gate as hard as possible and it will be up to Barcelona to control the tempo early. If they let PSG into the game with an early goal, that could really spell trouble as PSG sit back and spring counterattacks, so control is paramount. Will we do it? I see no reason why we shouldn't.
Official Prediction: 2-1, goals by Iniesta and Xavi to feel like things are wrapped up before a late goal by PSG unnerves a few people.