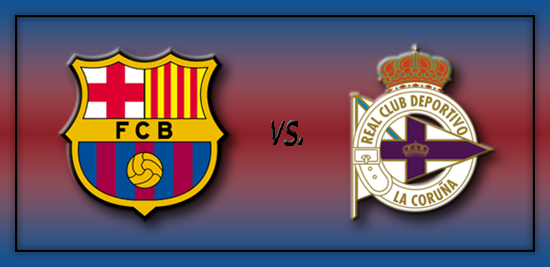 You could say that FC Barcelona has been going through a rough patch. The team has lost 3 of its last 4 matches in all competitions by a combined 8-3 and hasn't kept a clean sheet since January 6. It sounds pretty bad. But Deportivo La Coruña fans would probably kill to be in the position that Barça fans are complaining about. Depor has earned just 17 points all season and just 2 since January 5. Whereas Barça fans are looking at the table and contemplating magic numbers,* Depor fans are staring at the hard reality of being 23 points from safety with only 36 points remaining. Those 23 points (conventional wisdom suggests 40 points keeps you from relegation) represent 6 more points than the team has earned all season. They sit last, with just 17 points from 26 matches.
They put up a spirited effort against Real Madrid at the Bernabeu 2 weeks ago, but ended up with nothing to show for it. They've only earned 2 points in the last 8 matches, having drawn 1-1 at Real Sociedad and 0-0 at home to Rayo. Their top scorer, Riki, has 10 goals. The rest of their team has a combined 19 goals. They've allowed 56. They've won just 3 times all year and never away from home. They've allowed 35 goals on the road, 5 more goals than Barcelona has allowed total. Oh and did I mention Riki is injured and remains doubtful for the weekend?
Given all that, Barcelona is having a very, very good year.
You can't really blame Depor coach Fernando Vázquez for being a bit pessimistic and declaring that a far more important match for the Blanquiazules is against fellow Galicians Celta Vigo in a week. Given that, he has suggested he'll rest Riki, who is suffering from a Grade 1 abductor pull, but that Riki will at least make the trip to Barcelona. Why is Riki's exclusion potentially so important? He's created like 8,000 chances against Barcelona the last time out, which, if you remember, was a rollicking 4-5 victory for the blaugrana in Galicia. Vázquez will also be without Ze Castro, Laure, and (the other) Kaká through injury.
That last match was a lesson in staying awake. One that Puyol would have been perfect for, simply because he would have been screaming in everyone's face to wake up, pay attention, stop scoring own goals (ahem, looking at you, Jordi). Maybe this time around the team will not go to sleep at 3-0 up and let Depor back in. Obviously that means they have to get to 3-0 up, which is an altogether different question than it was in October when the team was scoring by the bucketload. The team still has moments of absurd offensive domination (see Getafe on February 10), but has been faltering as of late in an extremely difficult period.
Whatever the reason–fatigue, coaching, dark star matter–the team hasn't been firing on all cylinders, yet is still sits 11 points ahead of Atleti and 13 ahead of Real Madrid. Only three times since the beginning of the league 26 matches ago has the team failed to score two or more goals: against Valencia twice and this past Sunday. The team has an 8 match home winning streak and have never once failed to score in a match. The other side is that the team, as mentioned, hasn't held an opponent scoreless since January and have only done so a grand total of 5 times throughout the league season.
But who would put money on Deportivo even grabbing a draw, much less a win? It's hard not to wonder how they'll muster even a decent outing when their current best player is, I don't know, Carlos Marchena? Juan Carlos Valeron? Paulo Assunção? Their combined ages are 103. Feel free to read that again. Maybe it's Pizzi, he of the double against Barça, or Abel Aguilar, who is on loan from Hercules? Without Riki, the honest answer is that it's probably no one. Valeron is 37 and well beyond his scintillating best. They've got 17 points at the moment because they're simply not very good. Even compared to Mallorca, who have just 23 points.
What this has to be for Barça is a warm up, a tune up, a Milan-preview. It has to be an all-out match in which there are rotations, but no letoff in terms of intensity. Whoever is in the back line, and it won't be Bartra because he just got injured again, presumably by carrying too many water bottles for starters at once, will have to marshall an actual defense in front of Pinto. He of the Braids will be standing in for Valdes for a while. Perhaps we'll see Tello start, maybe Messi will even get a rest. It's hard to know, but with a potentially season-defining match on Tuesday and the club administration in the news for all the wrong reasons, there could be a lot more pressure on the team than usual. If they can relax and just play, they'll be fine. If Roura can actually pull this off, he'll be a hero. But it starts against Depor. It starts now.
Official Prediction: 3-1. Will we ever keep a clean sheet?
—–
* The simple math says 25, but obviously that's not quite right because FCB and Atleti play each other. Sadly, even I can't really be bothered to do G + 1 − WA − LB….or, I suppose, to research it better. Those of you with greater skills at math things can probably tell me how wrong I am.