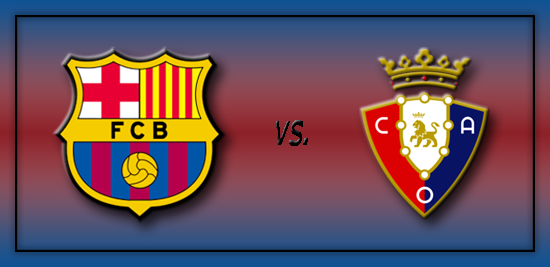 It was mid-afternoon on Friday when I received word that Lionel Messi had been injured enough to keep him out of Sunday's game against Osasuna. I immediately panicked, as any good cule would. I lit my computer on fire, threw my phone out the nearest window, and wailed loudly for hours. My boss was very upset by the first and third of those measures given that I was in the office while my wife was very upset by the second. On Saturday I was greeted by the headline that Messi does not, actually, have an injury. I immediately reverse panicked, as any cule worth his salt would. I kissed a random baby, handed a stranger $20, and whooped loudly for hours. My wife was very upset by the second and third of those measures while the random baby's mother was very upset by the first.
The point is, of course, that Lionel Messi is important. Underlying that are some personal issues, but those are not the point of this preview. Without our little Argentine, how could Barcelona possibly defeat mighty third-to-last Osasuna? They have Kike Sola, Patxi Puñal, and Oier Sanjurjo. Who do we have? Just a bunch of new or soon-to-be daddies who like to pick up cards for whining and diving. Not much to hang your hat on there, really. Fortunately we don't have to cross the bridge where we pick up the pieces of our devastated season as Messi sits on the bench for a whole day while the team struggles to find goals without him. Further good news: Osasuna is an atrocious 1W-2D-6L (6GF 13GA) while on the road, Barcelona has allowed just 7 goals en casa all season, and Osasuna is missing several players due to injury or ACN duty. That Osasuna sits 18th in the table, 37 points behind Barcelona should further widen the smile that is, perhaps, settling across most cule's lips.
And yet.
The first time we played them, Osasuna took the game to Barcelona with fury and determination, Joseba Llorente finished neatly to blow the roof off of Osasuna's cauldron of a stadium, El Sadar, and the world looked set to flip on its head. Messi scored a goal that started with an offside by Alexis and then Messi swept home the winner just 4 minutes later. It was anything but an easy game. You can watch the goals here.
Osasuna also just drew with Real Madrid a couple of weeks ago on January 12. They then beat Depor to turn what had been a poor December (1 point from 4 games) into a new dawn for them. And then, of course, a trip to the Camp Nou jumps up and they've got quite the uphill battle. Yet they showed against Madrid that they can stifle attacks as well as anyway. The difference is that Madrid's attacks were tepid at best: they went with long balls rather than building through the middle and refused to really turn on the engine. Yes, both Sergio Ramos and Cristiano Ronaldo were both suspended for that match, but like with the above scenario where Messi misses out, it's the other superstars that are supposed to do the work for once.
That is the fundamental difference between this year's Barcelona and Real Madrid: superstars that work and superstars that wonder why they have to work. Whatever David Villa's complaints about playing time, there are few to no stories about him in the papers, whereas there is a constant barrage of headlines and "reports" from "inside sources" detailing myriad fractures in the Madrid locker room. If a tenth of them are true, that has to be a terrible environment to work in. I don't know that a tenth of them are true, of course, and I suspect that they're not, but it's certainly not the harmonious image that Barcelona gives off even while a world class player is supposedly on the outs. All credit to David Villa for his professionalism, whatever his thoughts.
Another difference: Barcelona only gets more persistent in their attacks and ball control as their opponent gets more stubborn. Madrid, this year (and it is important to note that I am talking about this season exclusively) has often looked like a team that believes it will coast to glory without really caring or worrying about actually, you know, scoring goals. The terrifying thing is that they've scored 50 of them without bothering to try in most games. 5 of the goals came against Valencia, of course, in a game that showed off their firepower while also recording a clean sheet. Still, if they're finally back (whatever that means), they've chosen a hell of a time to start fighting: 15 points out of 1st and 7 points out of 2nd, with only the slimmest of chances to grab the title. And yeah, they're actually 4 points out of first given that Atleti will roll over and die as usual in their next league encounter.
Why so much about them? Because without waking up each morning and getting ready to play your heart out, you end up just like them: looking up into the sky for those you consider rivals, craning your neck so much you might just snap it. Complacency is the thing that can't creep in and it Barcelona doesn't look very complacent. I didn't catch it, but there was possibly some complacency once the team was up 0-2; that sort of thing simply can't be allowed to happen and it's games against the 18th place team where than can happen all too often.
"Oh, they're just a doormat," and then bam, #1 Duke gets destroyed by Miami.
"Oh, they're just nobodies from nowhere," and then bam, Arsenal gets the boot by fourth division Bradford City.
Osasuna is by no means incapable of winning matches. They've won 4 of them so far this season, including a 4-0 thrashing of Levante. Yes, the Levante that sits in 6th. They also beat Espanyol 0-3 at Cornella. It's easy to overlook these guys because that's all they've really done, but they have yet to lose by more than 2 goals and, overall, have allowed fewer goals (21) than Barcelona (23). Never say never to the 0-0 draw or the last minute winner.
Now, can we just go back to reverse panicking about how my fantasy team is going to do better this week because Messi isn't injured? Hooray!
Official Prediction: 2-1. Goals by Messi (2).