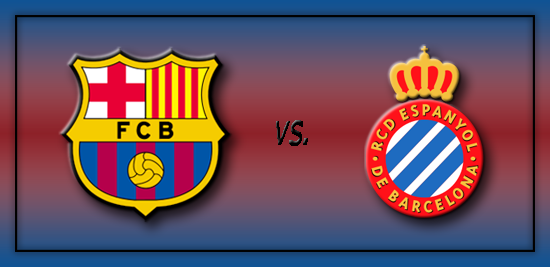 The holidays are, for me, often a time when I sit on my couch and relax. I also eat as many M&Ms as I can fit into my face. It's a Christmas Day tradition. This means that by the time La Liga restarts, I'm a good 5-10 seconds slower on the 100 meter dash than I was the last time Barça played. Let's hope that the team hasn't been so gluttonous. No doubt some of you have been bingeing on transfer gossip instead. I can't say I participated in that particular orgy of nonsense this year, so whatever David Villa's final destination (perhaps it's even Barça?) or where Isaac Cuenca will end up on loan (nowhere?), I can't say I've kept up. I prefer to pick out the red and blue M&Ms and randomly sing the Barça anthem while my wife takes deep breaths and fights the urge to google "divorce lawyer".
Usually I return sluggishly to La Liga, unsure of what matters anymore, but this time around there's something a bit spicier than your average meatball: an intercity rivalry showdown. A Derbi Barceloní, if you will. A fight to the death inside a steel cage filled with hammers and terrible haircuts. This is the real deal. Given that Espanyol recently gifted us a Hannukah present on December 16 with a 2-2 draw against Real Madrid, some might think I'd be going into this a little softer of heart, but those people would be fools. It should be noted, however, that I'm also not the type of guy who roots for Espanyol to remain in the top flight so that we can have these little hoohaws. Call me callous, competitive, or just downright jerkish. I call it rivalry time.
Here's the thing: this match means so much more than just 3 points, local bragging rights, or another day on the schedule. With Tito Vilanova returning from a recent cancer relapse, this match will be both emotionally intense as well as cathartic. Jordi Roura has confirmed Tito will be on the bench against Espanyol, which is just, well, amazing. I'm not much for discussing the personal lives of players, at least not the aspects I consider to be private (babies, divorces, weddings, illnesses), but I am happy to celebrate returns from adversity. It was wonderful to see David Villa come back from a broken leg, so it is so much more amazing to see Tito return (again) from a cancer-related absence. I wish him and his family the absolute best. I just hope that he is not returning out of a sense of duty when he's not ready to be back.
Along those same lines, Eric Abidal is now training with more regularity, though he did not take part in the most recent full practice. Having Abidal back would be an absolutely amazing thing, but again, what is most important is his long term health rather than a single glorious emotional explosion when he makes an early return and is subsequently sidelined forever. If he can't play at the highest level, give him a minute at the end of a match to soak up the applause and then let him retire into the limelight. His new friend Snoop can play FIFA with him or something.
Isaac Cuenca's road to recovery is still long and windy, but he's getting there. Rumors abound about his potential exit on loan (again–perhaps to Sabadell?), but he needs to gain full fitness before the team considers sending him out. This may seem counter-intuitive, but being able to see what he's capable of in practice is the best way to understand where he is physically rather than watching him in someone else's system. There's also no sense in rushing the kid back given his age (21) and the current lead over 2nd place Atleti (9 points).
And so, this is Espanyol visiting the Camp Nou where they were thrashed 4-0 in an emotional game last year. In fact, Espanyol has not won since their visit to the Camp Nou in 2008-09 when they came out 1-2 winners. If you remember that match, it was Keita's phantom red card that turned things on their head. I certainly remember it. I was in the basement of Nevada Smiths in Manhattan watching with friends who had never been to a Barcelona game before. I was surprisingly calm for someone losing to a serious rival. Tomorrow will not involve calm, if the seasons since 08-09 are any indication…maybe it's the M&Ms?
Adriano is back after missing some practice with a contusion, Cesc has recovered from his injury, and the squad is suddenly looking like it's got some depth. On the other side of the ball, Espanyol is only missing Wakaso Mubarak, who is with the Ghanaian national team. They are, at least, getting Cristian Gómez back from injury. Their squad is:
Raúl Rodríguez, Víctor Sánchez, Forlín, Baena, Stuani, Sergio García, Verdú, Kiko Casilla, Héctor Moreno, Javi López, Albín, Capdevila, Colotto, Simao, Cristian Gómez, Christian Alfonso, Víctor Álvarez, and Germán. [Source]
I don't want to act like Espanyol doesn't have a chance–they went into the Bernabeu and came away with a point, after all–but they're sitting in 18th place with just 15 points after 17 matches. Yes, they haven't lost since an 0-2 home defeat to Getafe on November 25, but they've also only won once (2-0 against Depor, one of the only teams below them). They've only scored 8 goals in 8 road games while Barça has only allowed 7 in 8 home matches. Espanyol has allowed 11 road goals while Barça has scored 25 home goals.
There's also this matter of Javier Aguirre. A man who was fired from Atleti and Real Zaragoza and was also in charge of what can only be described as a baffling World Cup by Mexico in 2010 is hardly the savior that Espanyol hopes he will be, but he is also hardly the schlub commentators (such as yours truly) make him out to be. Yes, he picked Guille Franco (!) and Bofo Bautista (!!) for the World Cup while leaving out Jonathan dos Santos, but he was instrumental in moving Osasuna from relegation-threatened to Champions League qualifying between 2002 and 2006.  He didn't stick around to test the waters of that competition, though, preferring a move to Atletico Madrid. There, he managed to finish 7th and 4th in his 2 full seasons. This time, he participated in the Champions League, guiding the team to the Round of 16 where they were eliminated by Porto. Then the team went on a veritable tear of horrible play and Aguirre was sacked. It's hard to say he was terrible, but Aguirre is hardly the type of coach that inspires confidence in a fanbase. He almost invites unfair criticism because he never really responds to it in any meaningful way, but nor does he ignore it completely.
Given all that, they appointed Aguirre on November 28, 3 days after what has turned out to be their last loss. Obviously that's a good record, but can it stand? Their draw at the Bernabeu is probably the most impressive of their 4 subsequent results, but their draw with Sevilla is at once an unlucky result (91st minute goal to tie it by Negredo) and a terrible result (played against 10 men for 52 minutes). It's these sorts of games that define teams and Espanyol appears to have defined itself as a team that can (sort of) compete. This may or may not hold up throughout the year, but I do expect them to survive into next season in the first division.
So, the game itself? Official Prediction: 3-1. Goals by Messi (2) and Xavi. Going into the Camp Nou on a derby day of such abnormally high emotion will not work out for Espanyol.  A team in the relegation zone against a team destroying the competition? Seems a nobrainer and I think it will be.
Enjoy!