This is not a review. I would just like to share some thoughts about the game with you.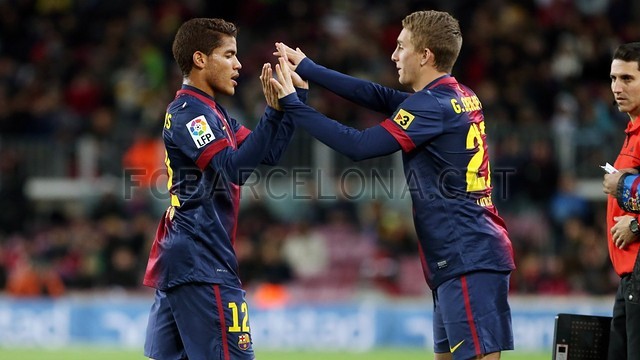 Alavés do not look like a Third Division side to me. They were supposed to have their butts handed to them in at least one of the two legs, but they simply have too much heart. The away game bored the monkeys out of me. As usual during midweek games I took an extended break from work (smile), but I almost fell asleep during the first half. So bad it was a struggle to get back to my job again. There is something about bringing an almost complete A-team to play a quarter-professional C-team that really fails to get my juices flowing. It's like watching a UFC heavyweight champ fight a welterweight judoka, uhmmm….actually, wait, I would probably very much enjoy that. But you get the idea. The fact that it took us more than half an hour to score and that for every free kick or corner conceded we still looked worryingly panicked did not add exactly sprinkle the enjoyment factor.
The home game looked to be a lot more fun. And indeed it was. Hooray, we get to watch a midfield tandem of Sergi Roberto and Dos Santos, complemented by his outgrown buddy Thiago de Alcántara who we almost haven't seen this season due to injury. What's more, after scoring THAT goal against not-too-long-ago relegated Racing Santander, we could expect Gerard Deulofeu to get significant playing time too, and maybe even start (it was not to be).  Too bad Bartra and Cuenca are injured. And that the great Yaya is no longer with us to romp through Alavesian midfields. But again, even though we started mostly first team players with only one Barcelona B player plus Santos, Alavés kept the score relatively low. It is definitely worth mentioning that we did not play badly, but rather that they refused to go out like that. For that they deserve our applause.
Although neither looked like world beaters, Sergi Roberto and Dos Santos did reasonably well. I really liked Jonathan's distribution. Still think he will get sold as soon as he allows it. I also believe it will be very hard for us to hold on to Sergi Roberto, who is a lot more talented than he showed in this game. It will probably come down to how much he wants to play for Barça and how much he wants to play, period. I hope he will be patient.
The Villa Situation.  While it is good to see el Guaje get two goals, he doesn't exactly look thrilled to play meaningless cup games and to either eat pine or get taken off early in the ones that count. Or, in the words of a bad mofo: "You gotta appreciate what an explosive element this Villa Situation is. If he comes home from a half a season's injury and finds a bunch of youngsters doing some youngster moves in his position, ain't no tellin' where he's apt to go."*
Adriano Correia scored his fourth goal in thirteen games this season. That is just as many as in the seventy-one games he played for Barça in his first two years with the team. Somebody's out to prove something. When we also take into account that he played as a central defender for the first time ever in one of the biggest matches of the world, it is safe to say that this role player has played an exceptional role for us so far. Let's hope he continues to do just that.
Some people are blessed with a chin. Others with a jaw. Yet others with exceptional talent for kicking round objects. Gerard Deulofeu belongs to the latter category. He started off like crap in a wet paper bag. A wayward pass. Some lame dribbling attempts that wouldn't have gotten past Marcelo's grandmother. But once he got going he showed some real skill. Kid got more moves than the Rock Steady Crew, and he almost scored a cracker. He has to learn to pass the ball. Hopefully we will bring him slow and get him some more minutes against tougher competition later this season. I wanna see how good he can become.
Were you as impressed with the defense as I was? Yeah, I thought so. Montoya let Borja Viguera nod in an uncontested header and the whole team looked vast asleep when a suspiciously on-side looking goal was ruled off-side. That would have been two (!) goals conceded against a Segunda B (!) team. We might have a comfortable lead in the Liga but unless we do something about our backache that big shiny Champion's League trophy looks very unlikely.
Speaking of a comfortable lead, I would like to leave you with a question. Is our lead 11 points, or 3? Or better yet, is Atlético the REAL Madrid this year?
*yup, that's my bad mo-fo