For most people, the first thing on their mind upon finding out our Champion's League group opponents was:  "Damn. Our boys will have to go to Russia in the winter".
I'll go out on a limb here and say that few Barça players know the cold as some of us do.
Isaiah lives in Brooklyn, where old folks will freeze to death should their boiler break down come February. Kxevin writes from the Windy City, aka "does that sound hot to you?" Blitzen and Kari are Canadian and thus caught up in a lifelong love triangle with Mr. Wind Chill Factor. I personally never got accustomed to him using his cold wintery ways to sneak up my orifices, so after 7 years in Québec I fled to the South, gladly accepting a higher inflation and staggering homicide rate in exchange for a raise in temperature. It's one thing for teeth to rattle and another for legs to shiver. Having your nostrils stuck closed because your snot freezes over the moment you step out the door is something else altogether.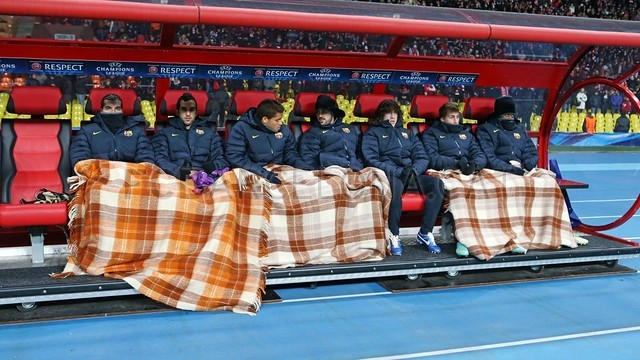 General Tito Vilanova made it clear from the outset. After the lost battle of Hyde Park we could ill-afford another mishap. The road to qualification had to lead through Russia, the final station and premature demise of many ambitious figures of years past.
The warriors that came out to play? Victor Valdes, Dani Alves, Pique, Mascherano, Alba, Busquets, Xavi, Cesc, Iniesta, Messi and Pedro – facing a Spartak Moscow that almost took all three points home from the Camp Nou at our group's opening fixture, (if not for a late Messi double), with coach Emery keeping the defense tight and the offense loose. With an artificial pitch on foreign grounds, this promised to be a tough one.
The Luzhniki Stadium was filled for the first time since the CL final of 2008 and our boys walked out of its chambers to play in what must have felt like a gigantic throat, as more than 78,000 partisans amazingly blasted out of their lungs what sounded like the same military chant for the duration of the whole game. It did not bother us in the slightest. Apparently it didn't do all that much for Spartak either, although they did get the first shot at goal.
History will tell us that we finished the game in the first half, and history is never wrong, except for when it's right. After the first half we led 3-0, which was also the final score of the game. According to the Catalan newspapers the team is finally finding its rhythm. It is now a well-oiled machine. The defense is no longer a cause for concern. Masche is a rock when played alongside Gerard. This I do not know.
I do know it could have just as easily been 3-3. Within half an hour Moscow had more opportunities to score than Celtic over the course of a whole game. However Källström, Kambarov and Emenike all failed to put the ball on target.  We didn't.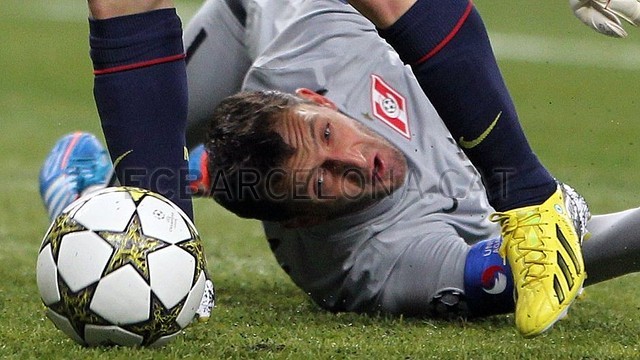 I know Messi scored another 2 goals and had yet another assist. We all know that much, nuff said. More interestingly, it was the first time Busi, Cesc, Xavi and Iniesta played together this season – mainly because it was the first time that the circumstances allowed it, according to an ever enigmatic Tito Vilanova.
This put Don Andrés on the left wing, and although we prefer to see him in midfield he played very well, indeed. In one particular instance he made such a fool out of a myriad of Muscovites that it had fellow spectators and myself cheering and shoulder clapping, as if he had just scored the winning goal. Whether this is a set-up we will see more, or less of, remains to be seen.
I know that if Daniel Alves da Silva (Juazeiro, average temperature 25+ °C) plays like he did yesterday, he will subdue the legion of voices that are clamoring for Montoya to be the starting full-back. He not only scored the opening goal after his favorite Argentine fought and scrambled to provide him with the assist, but he also had his best game in a long time. When at the dawn of winter a Brazilian steps on a Russian pitch wearing a short-sleeved shirt, it's on. He has been saying all the right things so far this season, and yesterday he finally put his money where his mouth is. Let's hope he will continue to do just that because, when on form, he is invaluable to this team.
I know Sergio Busquets showed us again why the great Yaya Touré no longer plays for us. Just like Martin Montoya can push Dani Alves to play at his highest level, it must be somewhat disheartening for Song to see what he is up against. And even though he only scores furious red goals these days, Pedrito played his heart out. I have no idea whether or not he dived when Messi set him up for a one-on-one, but I do know that Pedro(!) used to score those with a quick shot from the hip instead of trying to round the goalkeeper, a move Leo showed how it was done a few minutes later.
I think I know that all who have been bashing Victor Valdes over the last couple of months, myself included, put both hands on our chests to check if our hearts were still beating when he was laid out wincing of pain late in the second half. It made me realize that full of flaws he may be, it is hard to find one better in the current market. A very important piece of the Barça puzzle, and undoubtedly the one who suffered most yesterday. He could not run back and forth to keep warm like his teammates on the pitch, and he didn't have a nice comfortable blanket to hide in like the ones on the bench.  Although he did sport a very fashionable turtleneck sweater more traditional keepers wouldn't have been caught dead in. I'm looking forward to the day Madrid plays in Russia to see if Cristiano Ronaldo will wear one too.
I know some players are not meant to play in the cold (more often than not they're Brazilian). Romario's steady excuse after being invisible for 90 minutes, the only action of note being the craning of his neck toward the bench with pleading eyes to be substituted? "Beetje koud."  A bit cold. Such an attitude does not exist in our team. More than four years after Pep told them that he will forgive bad results but not bad performances, the most amazing players in the world still go out hungry to do just that: perform. They do not allow circumstances to turn into excuses. Barça secured the win in the first half and mainly kept control in the second.
We needed to qualify for the knock-out phase, so we did.
"Luckily, I scored in the right goal this time"  ~ Dani Alves