It may be an abbreviated version of it thanks to the Champions League semifinal, but it is still EL CLASICO WEEK, an insane combination of high-volume, low-thought, short-fused absurdity. Mourinho accusing Guardiola of having won 2 tainted Champions Leagues, never mind Porto or Inter's own debt to refereeing decisions of course, Pepe sharpening his studs, Messi playing video games, Alexis maybe getting injured, and everyone and their mother cursing up a storm about tactical formations, the end of the world, and (in my special case) whether the bar will run out of beer before the game even starts.
This is the league. This is the whole season.
If we lose (or draw) here, it's over. A win is the only thing of value in the quest for a 4th consecutive title. The team has to put the defeat to Chelsea behind them and focus squarely on the titanic match waiting on Saturday. It's not about the pathetic whining of someone who was passed over for a job with FCB because he made the board uncomfortable with his totalitarian style; it's not about whether the last time the two teams met a ref blew the whistle at the wrong time; it's not about cycles or self-styled best teams in the world. It's about Barça-Madrid. It is about El Clasico. It is about 98,000 screaming fans in the Camp Nou.
All of that, though, all the tension, all the drama, all the bickering and whining, can be summed up in this: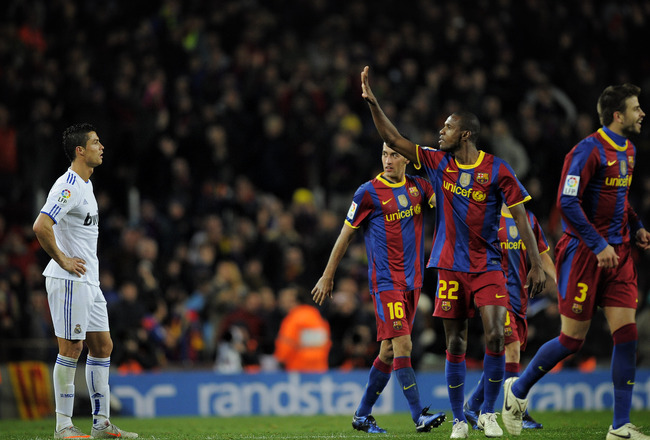 Bring it.