Copa Preview: Barcelona – Real Madrid, Wednesday 4pmET, GolTV
Fame and fortune appear to have different effects on different people. Keith Richards describes Mick Jagger as turning from a likeable guy to a sort of uncontrollable showman once the fame went to his head. The same was true of guitarist Brian Jones, but that mostly acid doing the talking after a while. And yes, I'm reading Richards' autobiography, Life. It's pretty interesting even though I don't know much about the Stones or the time in which they came into being. Still, it got me thinking: people who are under intense pressure to produce the best thing in the world at whatever they're doing (painting, music, football), are as likely as anyone else to crumble or change. Bernd Schuster said that Pepe, a man he signed for a lot of money, is a different person when he puts on his jersey. He wasn't defending Pepe's actions–indeed it seems he was doing the opposite–but he was pointing out that the red mist, as a Marine friend of mine called it, descends and you're changed until it lifts.
You become aware of your own privilege and your own expectations rise to meet that thought. When you're wronged, there's a propensity to overreaction. That willingness to cross the line after you've been humiliated, shown up, or antagonized (whatever you wish to call what Barça does to RM), is wrong. Perhaps more importantly for what we're talking about here, it's also a fundamental a weakness. I firmly believe that Busquets' willingness to go down too easily is a weakness. I think it harms the team by making refs think, rightly or wrongly, that Barça is faking most of the time. The same is true of off-the-ball incidents like Pepe's footloose moment. If a team is constantly seen stomping on opponents after the play is over or when the ref isn't looking, the next match they're more likely to receive harsher treatment for more innocuous fouls.
When Messi is slammed to the ground in the box and there's no call, that's probably thanks to someone else's faking earlier or even in a different match. When Pepe gets a red card for his studs up challenge on Alves (whether there's contact or not is immaterial), that's the previous 20 fouls and after-the-fact video evidence calling it for the ref. That's natural. Most of the time it's the player in question who gets the next card or no-call, but sometimes the whole team suffers.
The media coverage of Pepe's descent into the fires of impetuousness can actually exacerbate the situation by putting even more pressure on a player who is already carrying a lot of weight around on their shoulders. That, in turn, can cause Busi to fall over even more and Pepe to stomp even harder. Being called a cheat can simply make you more of a cheater as you try to make up for the perception.
Does that, then, cause your coach to kind of freak out? Both Tim Vickery and Sid Lowe seem to argue yes, though Sid goes through the motions of talking specifically about what Mourinho did to curb the effects of the leak to Marca and then what happened after that. It's fascinating in a train-wreck sort of way as Mourinho becomes more hunkered down in his storm shelter and the press go in for the kill, sensing weakness and dreaming of such grand carrion. Perhaps it will all backfire, as both Sergio Ramos and Iker Casillas have been quick to point out that they're going to lay their lives on the line in tomorrow's game, for Madrid's pride, for their own pride.
Yet if they do that, if they really do lay it all out there, will they lose even more than they can possibly gain? At the Camp Nou, the crowd will influence the ref. It's the way these things work, whether you want them to or not. Their performance in the first leg pretty much ensures a raucous crowd full of whistles and fever-pitch partisanship. When Messi is scythed down, there will be howls of the utmost pain from the stands. When it happens again, it will be for blood. Cards will be shown more quickly and the match will settle into a rhythm in which the slightest touch is exaggerated and the ref is constantly forced to make instant decisions regarding the bookability of fouls. It won't be easy.
The ref for the match is Teixera Vitienes and he'll have his hands full. Word on the street is that Pepe, Lassana Diarra, and Esteban Granero are all fitness doubts for the match, but I expect them all to be available and to see the first two play. Di Maria and Sami Khedira look set to miss the match with injuries while Carvalho and Kaka seem to be fully recovered and ready to go.
You'll forgive me, I hope, for not really caring who they put out. Whatever the plan and whatever the lineup, they're going to try to win by kicking Barça out of the stadium. That should be clear by now. If they don't try that, they will be trounced. They'll press high and they'll try to force mistakes. With their talent and their athleticism, they can keep that up for a while, but not without the occasional foul to keep the tricky little midgets from running around them. As the match wears on, that means the pressure, the need to win, will mount and they'll find themselves leaving the boot in, studs raking "accidentally" more and more often. Cards will mount. A red card will be shown. And then the polemic will live on for another cycle. So it goes.
That's pressure for you. And Barça removed a good deal of the negative pressure from themselves by scoring those 2 second-half goals to shift all of that to their opponents. Remember, a 0-1 win for Madrid means Barça goes through (aggregate score would be 2-2 and Barça would have 2 away goals to 1). Madrid must score at least 2 goals to advance, meaning they must come out to play. And could lead to some nasty collisions between the two teams when FCB starts to threaten.
Quickly, the possible outcomes:
Any win for Barça and Barça are through
Any draw and Barça are through
FCB 0-1 RM and Barça are through (2-2 aggregate)
FCB 1-2 RM and the match goes to extra time (3-3 aggregate)
Any win for RM other than those mentioned above and RM are through (ex 0-2, 3-4, 5-13–basically: x-x+2)
So there you have it. The simplest way to think of it is: win and we're through, draw and we're through, lose and we're out. That'll simplify things quite a bit for you.
Who, though, defends the colors against the hordes of capitaleños trying to storm our fair city? Probably:
Pinto, Alves, Piqué, Puyol, Abidal, Busquets, Xavi, Iniesta, Cesc, Messi, Alexis
Just going out on a limb here. Pedro could start, but he's been playing like butt recently, so that seems unlikely. Cuenca provides width, but has been youthfully, exuberantly missing for a good while now. I actually forgot he was on the field against Betis for the entire first half.
Pinto just signed a contract extension with the team (yay!), meaning he's certainly going to start the match tomorrow. He remains our Copa keeper and so we'll start him. Because that's how we roll, no matter how bad his keeper error in the first leg was. And it was bad. I feel like I would have saved that, that's how bad a non-save it was. That is not because I am better than Pinto, far from it, but rather because I would have panicked and curled up into a little ball, thus deflecting the ball to safety since it would have been shot straight at me along the ground. And I would have worn the resulting bruise as a badge of courage for as long as it lasted.
Here's that fame and fortune thing again, though: Barça is full of the most famous and most fortunate (see what I did there?) of players, yet they don't seem to be succumbing to pressure in the same way. What Madrid has done is built a need to defeat Barça in order to succeed. What Barça has done is nearly the same, but the pressure is off because of the previous wins. Now that Mourinho appears to be Barça's whipping boy, Barça's players can go in prepared and focused on a particular game plan instead of nervous that they'll screw it all up. Guardiola's position as coach is secure whether he wins a single trophy this year or not. Mourinho's is not.
The differences between the players seems fairly obvious too: Jorge Mendes is your agent or you are not important. Perhaps I'm wrong about that, but here are the players who Jorge Mendes represents on the RM squad: Pepe, Carvalho, Cristiano Ronaldo, di Maria, and Coentrao. Here is who Jorge Mendes also represents: Jose Mourinho. Is there much doubt why Mourinho gave little known and even less used Castilla defender Pedro Mendes playing time in a Champions League group stage match? No points if you guess who his agent is. One thing that I should note here is that Jorge Mendes appears to be a very, very good agent and has his hand in lots of cookie jars. His clients on RM's roster are also amazing players (whatever my bias says at other points, they're talented) so it's not hard to see why they get playing time. But they were purchased over other, potentially as good players, because of Jorge Mendes. And the case of Pedro Mendes appears (appears–I don't know for sure!) to be favoritism thanks to his relative lack of playing time even with Castilla (7 appearances in 21 matches if Wikipedia is up-to-date).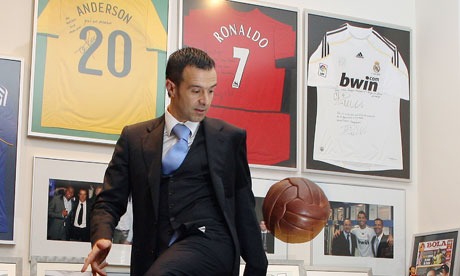 These differences, real or imagined, seem to be galvanizing a sort of terrible anti-Mourinho climate in Madrid. The opposite is true in Barcelona, where (as far as I know) no super agent controls half the locker room and the coaching staff and maybe that's coming out now. There are haves and have nots in Barcelona, but they appear to be "can you dominar el balon or not?" questions rather than who represents you. In a world where everyone is absurdly talented, little things like who your agent is can be huge things.
As long as Messi, Xavi, and the rest of the team don't fall into the drugs and rock'n'roll lifestyle of the Rolling Stones, things shouldn't fall apart. Certainly there will be players who simply don't mesh with the overall system (Hleb, Ibrahimovic, even Eto'o), but Guardiola appears to be bringing everyone together and making them a cohesive unit rather than building them into a juggernaut capable of ripping everything in front of them to shreds so help me God. That's part of the away "doldrums" the team has been experiencing, yet they've also won twice at the Bernabeu (who else can say that over the last few years?) and have put together the second best away record in the league.
The pressure is off, though. Barça have won it all in the last couple of years and while everyone wants to continue winning it all, they don't have to. We, the fans, just want them to. If they don't, we're not raging against all things Guardiola or whoever we're blaming for the loss. We're moving on to the next match, where our expectations shift to "let's pick this up" instead of "let's get a manita". That's healthy.
Madrid fans are ticked, no matter what's going on, if they keep losing to Barça and getting bounced from tournaments. The most recent loss must have been extra hard because they have the tools to attack for 90 minutes, but instead chose to go a full match with a regiment of defensive midfielders and an actual trench in front of the goal fronted by barbed wire. And they still lost. So now there's morepressure to perform at the Camp Nou. There's more pressure to do something spectacular and finally beat Barcelona in a way that really hurts.
Official Prediction: 1-1. I think the game gets bogged down in midfield (read: fouls) and we squeak out. Our goal by Messi, because it's in the Camp Nou.
Also, Happy Birthday to Xavi, who turns as old as Gandalf today, but has just as much magic as that old geezer too. Kari demands that I link to this (admittedly awesome) picture of him.
And, yeah: