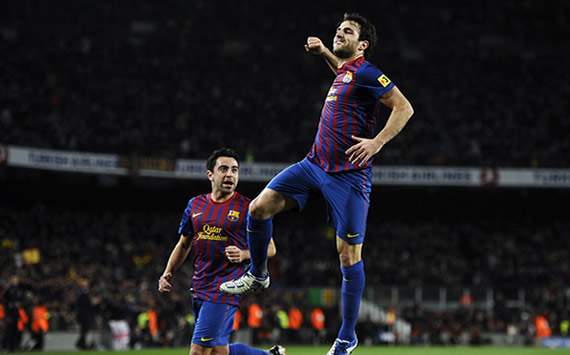 It appears that visiting the Camp Nou is the footballing equivalent to a death sentence. Since the 2-2 draw with AC Milan in the Champions League group stage on September 13, 2011, Barça has allowed exactly 0 goals at home. In La Liga, 8 matches have produced 39 goals for; in the Champions League, 2 matches meant 6 more goals; and in the Copa del Rey, L'Hospitalet fell 9-0 and now Osasuna has gone down 4-0 as well. In total, that's 58 goals to none against. 60 goals with 2 against is the season-long total unless you count the Supercopa de España second leg match against Real Madrid that ended 3-2 in Barça's favor.
Osasuna, whatever their complaints about the grass or Messi's inclusion in the squad after the announcement of his illness, should recognize that the final score was a fairly just outcome for how they played. Opening salvos aside, it was a one-dimensional match: Barça attacking. That anyone could possibly complain about being played off the pitch is simply a testament to how much it sucks to get blown out, no matter who the opponent is.
As a casual amateur player, I get upset when I lose a tight match, much less when my team is repeatedly subjected to the other team's goal celebrations. And the largest number of fans we have are the teams waiting to play after us. We're competitive, even if we're not, you know, competitive. Being competitive is the lifeblood of any athlete and it is only increasingly so as the stakes get higher, so it's understandable that Osasuna is pissed about having had 12 goals put on them in 2 matches.
Speaking of competitive, Guardiola rolled out a very serious lineup, starting Pinto, Puyol, Mascherano, Pique, Busquets, Thiago, Xavi, Cesc, Pedro, Cuenca, Alves, a 3-4-3 on paper and mostly so in practice. You have to start at least 7 first teamers, so next week's match, while pretty much a formality, will not be replete with B teamers called up for the occasion. It'll be something like what appeared against L'Hospi, one can assume.
The match, then
Early pressing by Osasuna created a couple of delicate moments, including a risky pass by Pinto out of the back to Pique. When Osasuna got the ball, however, Barça was quick to press and Osasuna gave the ball up fairly cheaply. By the 6th minute, Barça's rhythm had been established and the day's theme began to emerge: Osasuna's midfield would press forward while the defense became discombobulated and lost the plot. The back line would just hang around with FCB's forwards and leave the middle channels completely open for quick bursts through the middle.
Barcelona's shape was, as always, dependent on the moment. Cuenca and Pedro switched positions from time-to-time, causing slight panic in the defense that Cesc took full advantage of throughout. He was everywhere and I suppose it's worth a paragraph about him:
Cesc Fabregas is a wonderful player. We all know that. We've all known that for a long time. I wasn't in favor of his purchase for a couple of reasons that aren't really worth going into at the moment, but suffice to say that they didn't have much to do with his on-field abilities. Since his arrival, I haven't been particularly impressed with a couple of aspects of his game. Compare him to Messi, Xavi, Iniesta, and even Thiago and you can say that he has subpar on-the-ball qualities. He's not as fast or physical as everyone in England claimed he'd be (though that is a lame argument on my part since I didn't buy it back then either) and his passing sometimes leaves something to be desired, but he is—and this is very important—absolutely ridiculously awesome at spacing. He's got that innate knowledge of where to be and how to position himself to create space around him. It's a lovely thing to watch and yesterday's match was that plus a work rate that was virtually unmatched. He was everywhere and doing everything. He put in his best all-around performance in a blaugrana shirt. What's tough for him, of course, is that his performance was nearly overshadowed by that of Xavi. Or possibly even Messi, who played for just 30 minutes.
But no, my Man of the Match is Cesc Fabregas. He was spectacular. He could have had 4 goals and as many assists, but ended with "just" a brace and a single assist.
And yet.
It's a team game and this team, this Futbol Club Barcelona is simply on another planet right now. They're space aliens come to earth to mess with our brains. As long as their mothership doesn't come to take them away, I gladly welcome our new overlords. Because, damn, they're somethin' and that somethin' is such a pleasure to watch.
The team is playing at such a high level that it's almost incomprehensible how they lost to Getafe just a few weeks ago or even conceded a single shot on goal to that one team in white, much less a goal. Osasuna ran into a buzzsaw and if Madrid gets past Malaga to reach the quarters with Barça, it's going to be a crazy couple of games, but 2 which the team should win. Al Sadd and Santos can tell them what it's going to be like. L'Hospi is still searching for a ball to play with since we still have them all in our house. Osasuna thought they were doing okay, but then half jogged for a moment and bam. 4-0.
The Bad
A couple of odd moments at the back, Pedro's anonymity throughout, and the lack of a pressure during a small period where Osasuna played their way into the game and probably should have gotten on the scoreboard to teach us a lesson about going to sleep. That's about the only bad, I guess, except for pretty much all of Osasuna's performance.
The Good
Cesc, Xavi, Messi's sick performance, and the overall defensive display. Also good was Ivorian-Guinean-Belgian striker Roland Lamah, a second half substitution who showed determination and a couple of good moves. Pretty much the only bright spot in an otherwise bad performance by the team. I enjoyed the team's overall work rate and especially the willingness to track back when things slipped through the first layer of defense. Sánchez stood out in that, for instance. Puyol was an inspiration. What a guy.
Messi was incredible in his few minutes. Sometimes it's easy to forget how good he really is, then he comes on and bam, it's a different game. He is so complete now: his passing, vision, and ability with the ball are simply unfathomable skills. Twice he combined with other players to go on a sick run. The first, with Alves, deserved a goal. The second, with Xavi, was more intricate and probably better, but ended with a little shirt tug that could have been called a penalty but would probably have been too harsh. Whatever. Incredible. I'm a Xavi guy, really, a fan of playmakers, of midfielders in general, and yet I'm enthralled by this Lionel Messi. How can you not be? He's astounding.
Next up is the Catalan derbi. So yeah, let's keep this level of play up and put pressure on Madrid going into their intense match against Malaga that could go either way (though will probably go in RM's favor). Do you believe in this team? You should. If you don't, go watch them again and drink in the lovely draughts of The Best Team Ever. You won't get another chance for 30 years, so go for it, go all in. It's fun.