4pm EST; ESPN 3 and ESPN Deportes in the US; GolTVCanada for the Canadiens.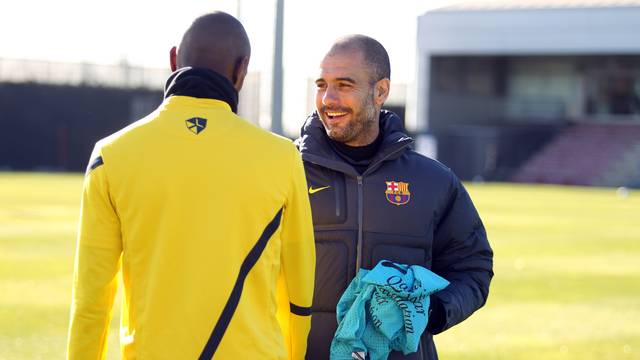 Like Xavi, I believe Barca and football are synonymous and so when Barca comes back, football returns as well. Of course it's 'only' the Copa, but that's still a trophy up for grabs and had we won it last season, we'd have done the Sextuple again. Just look at the faces of our players after we lost the final and tell me it doesn't matter [MD via @IBES16 on Twitter]
…Moving on, we face the Pandiani-less Osasuna at Camp Nou. [The tickets are only 9 Euros by the way. Well, the starting price anyway]. They are fierce, they are Basque, they are… fifth in the league?
Unbeaten at home, only three losses in the season [to, surprise surprise, Barca, Real Madrid and Athletic Bilbao – all away from home] Jose Mendilibar's Osasuna isn't one to be taken lightly. It's a well drilled team. Sure, they've conceded seven more goals [28] than they have scored [21] but one should take account the 8-0 annihilation we inflicted on them at the end of September and 7-1 demolition at the hands of The Evil Empire in November.
Since that game against the Whites, they've gone unbeaten, beating those Pericos away from home, a (sadly) woeful Villarreal and Real Betis at home, all by the same 2-1 scoreline, and draws with Rayo and Malaga.
Their results in the league so far: 16 games played, 6 wins, 7 draws, 3 losses.
As mentioned before, we've beaten them 8-0 the last time we met at home, but that was then and this is now. January has always been a difficult month and we'll need to put them away as quick as possible because Pamplona is a terrible place to go, especially going there needing a win. Those fans are vicious, man. Osasuna are aware that this is a two legged tie and will most likely be playing to get a good result – ie. A draw, of course a win would be even better – so they take the game to us in front of their fans.
So we'll have to be sharp. They don't score much, but they concede very many either. And you can bet Miguel Flano will be looking to get knee deep in some Catalan booty, so to speak.
 Their dangerous players in my book:
– The centre back and captain Miguel Flano: see above.
– The Iranian Nekounam. He's got a good eye for a pass, and can cause some problems if given enough space. Busi should stick to him like a real ugly, really tall fungus. He's world-class at that. And I mean that in the most complementary way possible. Of course.
–Dejan Lekic may have only scored 2 goals since joining the Basque outfit in 2010, but at 6'4'' he's one big hombre. And that's always bad. Because even though our team is full of skillful midgets from hell, we're still midgets nonetheless. I fully expected him to be marked by Puyol anyway. That is, if he plays. That seems unlikely because of:
– Ibrahima. He's young and tall. He's also very skillful, given that he spent half his career in Argentina. Of course, the man's also scored five goals in 12 appearances this season. And an assist. That's a lot. Five more than half his teammates, actually. What a beast.
– Juan Francisco Martinez Modesto. (…I wasn't sure what to call him). Anyway, he's played the most minutes out of the Osasuna forward [1251 min out of a possible 1462]. That obviously means he's scoring a bajillion goals a minute. And by that, I mean three.
Of course Pep understands the importance of this tie as well, saying in his presser today:
"[Osasuna] are a demanding side. They come at you. We have to play well and quick or the tie will be a difficult one.
"Mendilíbar is ambitious, and that's why his daring team are fifth with 25 points. They'll clearly be coming here looking to win the tie, and by doing that Osasuna will help us get back into competitive football … we are going to have to attack well and create lots of goalscoring chances".
On the 8-0 massacre: "That was a long time ago, and a result like that will be added motivation for them. The situation has changed. This is a 180 minute match and we have to try to get a good result."
In some great news, Iniesta's coming back a bit earlier than expected. He trained for the first time Monday and completed all the exercises. According to the Pepster, he's "fine" and can play for a little while, though "it's a bit early for him to play the whole 90 minutes."
That should mean he's fit for Sunday's game against the Pericos. Oh yes.
Leo Messi's come back from Argentina in good condition. As to whether he'll play tomorrow, Pep gives a sly smile and says he'll decide tomorrow. Expect him to play some part. [UPDATE]: Or not. He's been struck down with a flu, VV as well (not that he'd have played anyway).
Other than than the aforementioned duo, Villa and Ibi Afellay, we have a full squad. Including Tito.
Official Prediction: Goals, madness, Dani Alves having a crossing contest with Cuenca, a Xavi assist to an assist, Thiago getting stuck in, Cuenca beating defenders with his Adam's apple, Pep pulling out what remains of his glorious hair when 4-0 up and comfortable. And a Leo Messi goal.
—
On the transfer front: Hleb is chilling out in Germany with a personal trainer sayeth Mundo Deportivo.
We should send him to Arsenal. I mean, they're willing to take Henry back on a two month loan, why can't they take Hleb for, uh, ever? We'll even pay them to take him. In Masia players. And they love taking our youth players. We'll give them Carmona. And Armando. With no Bojanesque buy backs.
I mean, just look at how happy this guy was to get Hleb. On loan.
Speaking of buy backs… I give you an excerpt of the Barca alphabet I'll finish someday:
O is for Oriol
Got sold to English giants Chelsea,
To gain some first team minutes,
And it's all working out quite nicely.
Oh, he's a real jewel!
Passes better than seven Gareth Barrys,
And never loses a one on one duel!
Chelsea fans are enamoured
With the bald teenaged Spaniard.
As he gains a regular place,
Cules all sit and wait
For the inevitable Romeugate.
—
On Soriano's potential promotion: we all know that once he's promoted he can't go back to the B-team. The thing is, as they are now, our reserve team is really struggling for goals. Soriano is one of the rare experienced twentysomethings in the team who isn't completely useless. His leadership is invaluable.
That being said, his attitude is impeccable. He's extremely grateful to the club, because just when he thought he'd have to find another job, the Club came and gave him a chance. The man would probably do anything we ask of him, even being sold anywhere if it'd give us a profit. Such an attitude should be rewarded and a last hurrah could be on the cards.
What Pep had to say: "Soriano is a possible replacement for Villa.
"But the downside is that if we promote him to first team, there's no going back for him. He has shown that he can play in the first division, and he deserves a chance after all he's done in the reserves, he has a lot of potential, he fits into the team well. We have three weeks to decide. We'll see how this month goes, and how he adjusts to things."
– You know who's set to renew until 2013? Yeeep.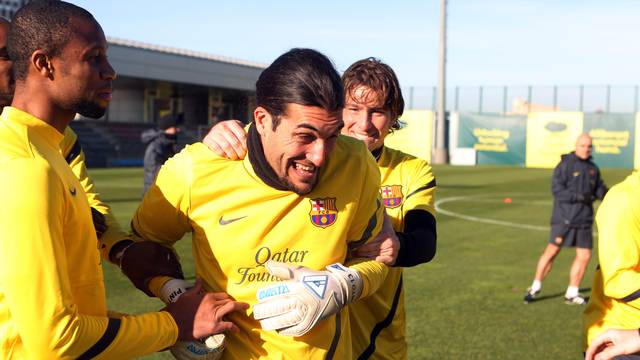 Stay forever please.