2:45pm EDT | (5:00pm EDT on Fox Soccer Channel)
So. Another Champions League game is upon us, and yet another Eastern European team you've probably never heard of before this game is our opponent.
Viktoria Plzen.
I admit that I have no idea who they are, other than they play their football in the good ol' country of the Czech Republic. So, like any good previewer, I dug around for some information to help me and you learn more about this team (read: I Wikipedia'd the heck outta 'em).
In this Google search lead quest for knowledge, one interesting I found about Viktoria is their club crest.
Look familiar? No? Well, that's okay. The cule in me immediately notices the red and blue stripes at the top.
You may or may not know this, but Viktoria Plzen won their first ever Czech league title last season, and throughout the entirety of that season, they were referred to as 'the Czech Barcelona' both for the color of their kits and presumably for their style of play. (I say presumably because I haven't actually seen them play, and YouTube can only tell me so much).
Before getting into the details of this style of play (and yes, the tactical formation diagrams make a comeback), a little back-story on our Czech visitors. (And no, I won't be talking about the beer. That's for the return leg).
They are somewhat of a fairy tale story. Founded in 1911, they are the boyhood club of famous Czech players (the now retired) Pavel Nedved and Chelsea goalkeeper Petr Cech. Known best for producing players and then selling them to bigger clubs both in the Czech Republic and abroad, they predictably struggled, bouncing between the first and second divisions. It was only until Slovakian coach Pavel Vrba took over in 2008 that Plzen's fortunes began to look up. He took them by the scruff of the neck, immediately building a team that could and would compete for the title. The approach, which I will detail below, was unconventional but was vindicated in his second season as he led Plzen to the 2009/10 Czech Cup.
In their centenary year, they would go on to win the title for the first time in their history, and qualify for the UEFA Champions League group stage, also for the first time in their history, winning all six qualification matches against Pyunik Yerevan (against whom they recorded their biggest ever win in Europe (5-1 at home)), Rosenborg and the much fancied FC Copenhagen.
To put this qualification into perspective, the third round qualification tie for last year's Europa League group stage was the last time they tried to qualify for a European competition and they were tonked 4-1 by Besiktas.
How They Will Line Up
"Any loss by less than five goals will be like a victory for us."
— Petr Jiráček, Plzen midfielder.
The above quote pretty much sums up Plzen's modus operandi for tomorrow's match.
Viktoria's base formation is a 4-2-3-1, but I doubt we'll be seeing anything other than a 4-5-1 – with them packing the midfield while staying tight and narrow at the back.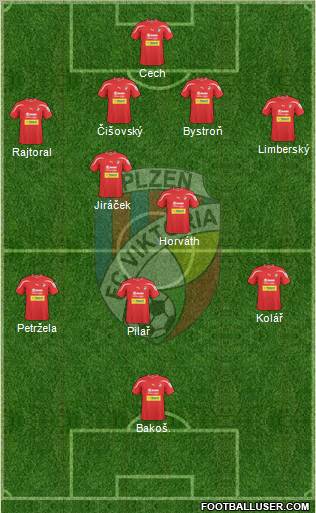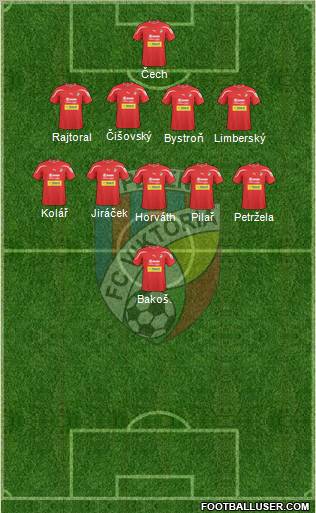 The team is build around this old man, Pavel Horvath (whose last name reminds me of Andrea Horwath. Sorry non-Ontarians who don't get this reference), who's 36 years old and conducts their play, forming one of the '2' in the 4-2-3-1 formation. He is, apparently, terribly overweight, but his vision and pinpoint passing was brought out by Vrba and used to great effect. Surrounding Horvath are quick, technical, offensive players who use their pace and skill to run onto passes from Horvath, and either take on the defender or go for goal.
The other player of interest is one Václav Pilař who is known as 'the Czech Messi' and who is, funnily enough, basically a Messi fanboy. It was absolutely hilarious reading his pre-match comments on Ramzi (@footballmood)'s Twitter. For those who haven't read it, you can see it here (just scroll down).
A cool tidbit about Plzen is they only have three players that aren't Czech (and those three players are all Croatian).
For all the nice words about their fairy tale story, Plzen hasn't done as well this season, having come back down to Earth after their high flying season last year. It appears as if their squad's feeling the extra games they've had to play as a result of their great season, and as they haven't reinforced much, if at all, this summer (only one player left, but he was duly replaced) their squad is quite thin. They sit bottom of the group, having tied 1-1 against BATE at home and lost 2-0 to Milan away. (See video below; Ibra needs to stop it with the ponytail thing he's got going on. For real.)
So to answer the question that no one asked: they won't be another Rubin Kazan.
On the Barca Side Of Things
We're looking good. Fontas has been tied up until 2015 after signing a new contact, which is great because I was a bit worried about his lack of playing time. Good thing he was asked about it, his response being, and this is paraphrased, that he experienced the same thing in Barca B, and that the renewal gives him confidence and motivation to work for his place.
And that makes me happy.
In other news, both Fabregas and Alexis have been training lightly with the team, but both are unavailable for the match. (Though, Sport has speculated that Fabregas will be available for the Sevilla match. But it's Sport so…).
Full squad: Valdés, Pinto, Alves, Puyol, Xavi, Villa, Iniesta, Messi, Thiago, Mascherano, Keita, Sergio Busquets, Pedro, Maxwell, Adriano, Abidal, Fontàs, Jonathan Dos Santos and Isaac Cuenca.
We want to win our next two CL matches – well, we always do, but these two especially – so we can qualify for the next round and rest up for the last two matches. Therefore, I expect a full strength lineup against a Plzen that hasn't been doing so well of late.
The two question marks are whether we'll play a 4-3-3 or a 3-4-3, and whether Puyol or Mascherano will start. Considering Plzen will be parking the airship, I'm going for the latter. As for Puyi or Masche, the reason I say that is because we have a big game against Sevilla this weekend.
Starting Xl (3-4-3):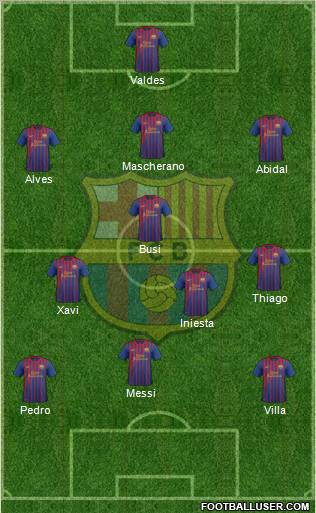 sMasche didn't play the last match, neither did Busi for that matter, so I'm putting them both in.
Subs: Keita, Adriano, and FONTAS PLEASE PEP.
Official prediction: 5-0, Messi x 3, Villa, Iniesta(!).
Because I'm mean like that. Manita! Manita! Manita!
(To read more about Plzen, this preview by Michal Petrak is ace. He evidently knows his Plzen).
In HUGE news
Can't watch the match and don't know where you can download it? Ever wanted to download that Zaragoza Messi Golazo match from 2009/10 but couldn't because you didn't have a fbtz account? Have no fear! I am pleased to give you: the official BFB fbtz account!
Reader Vj has kindly donated his fbtz account for BFB readers' use. It's open to everyone, so you don't have to ask (not that you would :P) can email us at team@barcelonafootballblog.com, if you want to have it. [Blame blitzen for unleashing the paranoia I had kept under wraps].
For those who don't know, fbtz is a fan run site which uploads links for people to download matches — and safely too. (i.e. no viruses that are purposely put in to ruin your computer). Fantastic place and I'd highly recommend making that place your go-to site for downloads. The only caveat is that the registration window is very short and unpredictable, which is why Vj giving us (read: you; I already have one) an account is so awesome.
Don't forget to leave Vj your thanks in the comment section!