Whoever's running the club's official YouTube page has decided to be a proper troll the last couple of days. Sign of a true cule, to be honest. First, they upload a video of Thiago and Valdes during a music video of some band. (mins. 1:00, 1:38, 3:00)
Then, they upload this seriously 'lol, what the flip' propaganda video about how Villa is the perfect man who saves puppies from burning buildings is always perfectly on time for interviews/press conferences, always praises his teammates (in the video, Xavi and Messi) and how he always waits for the person who ended pressers to stop talking so he can leave. (They highlight one moment where he felt he jingled his keys too loudly and was like, whoops!)
So, uh. I've got nothing else, really.
Therefore, this is the perfect time to spam reminisce on totally random moments like the random Ronaldinho red card from 2005 lol Jnice like that time where Xavi passed this amazing pass to Leo who tried an overhead kick but was saved by the suddenly there Cuenta goalkeeper.
Or when we totally scored these amazing team goals in December last year? (I totally love Iniesta's ROAR at 1:27, not even gonna lie. WELCOME BACK GHOSTFACE!)
Or Xavi's crazy a** backflick right into the path of Villa against Sevilla?
Or Xavi's celebration after Jeffren's manita goal?
Or when Abidal got hit in the head by Athletic fans in the Copa and then was like, "screw you all" and scored a Abidalazo?
Or when Abidal swag'd his way back to training after getting his liver tumor removed?
Or when Abidal subbed in for the first time?
Or when Puyi put the armband on him after CL final?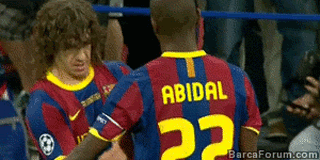 Can I just make this whole post about Abidal?
Or Pep's f— you subs, like when he subbed in Sergi Roberto at the Bernabeu during the 0-2 win in the CL semis? (I need to upload that to Youtube or something, seriously.)
Or that goal Iniesta scored in CL semis against Chelsea I don't care that it wasn't last year?
Or Dani's WTF??? lol cross bicycle kick off the crossbar?
Or Dani making out with the CL trophy?
Or Dani and Messi owning Deportivo on the right?
Or how Alexis has his own theme song, you know he has his own theme song? He brilla's! (Or something) I bet you didn't know that. (Messi has YAYA number of tribute songs, by the way).
Also, I managed to print screen this.
The above picture has been forwarded to @sandro_rosell. For shiznits and giggles.
[Note: not really]
I'm going to be kind to your bandwidths and stop there.
Now watch the latest Revista de La Liga courtesy of blackyliu. I know I'm kind of awesome for finding this stuff. I have no life, it seems.
And feel free to spam reminisce about stuff below.
(And yes, I'm still sick. Bleh.)