So, Milan, we meet again.
Last year, we played them in the Gamper, beating them on penalties, in what was a strange sequence of events which cumulated in record signing Zlatan Ibrahimovic leaving with the Milanese club. Just over a year later and we're squaring up again.
It'd be easy to make this whole preview about Ibra, Mino Raiola, mental institutions, philosophers and that whole transfer snafu, but it's always more productive to talk about the actual football (and I just told a story the last time I did a preview).
So, uh, the tactical attempt makes a comeback. I know Milan a bit because I've always liked them since the Shevchenko days, mostly because my sister was a Juve supporter, but Pirlo (#dathair)-Kaka-Seedorf-Maldini was too hard to resist. (SHEVA!!!!). Though, Udinese's been my team since last year, and I'm bandwagoning hard on Roma this year for obvious reasons.
My allegiances aside, I'll be looking to give you guys some sort of idea of how they'll play. I'm no expert, so apologies for the people who know this already and were hoping for Euler-esque insight.
Players To Watch
Besides the obvious players in Pato, Ibra, Robinho (if he's fit), and Cassano, here are some players to keep an eye on:
Alberto Aquilani: Liverpool and Roma fans will recognize this man. (Well, maybe not the Liverpool fans…) The main source of creatively in the midfield, Aquilani will be looking to pull the strings. He's not quick, but makes up for his lack of pace with his vision.
Kevin Prince Boateng: Jnice's homeboy, the Ghana international is very fast and a decent dribbler, though his technical skills aren't anything to write home about. Very hardworking, so he'll be running for 90 minutes. Is a bit selfish, though, so if a good scoring lane opens itself to him, he'll go for it rather than pass the ball. But his main attributes are his dynamism and working rate.
Mark van Bommel: A former player of ours, signed for Milan from Bayern this summer. I say watch out for him, but really I mean beware. I don't want to say he's dirty — okay, he's dirty — but he gets the job done. A pure destroyer, look for him to be on Xavi especially. (*says a quick prayer for Xavi's tendons*)
Thiago Silva: Strong defender, good in the air, with a great positional sense. He's like Puyol/Mascherano type of defender in that they come, they see, and they conquer. Technically ability is above average, and is very good on the ball. Long balls to Ibra is something to look out for. Is usually the first to put out the fire. Didn't have a great game against Lazio on Friday, but there is no doubt he's a world class defender, the best in Serie A last season IMO.
Basic Overview
As we all know, formations are arbitrary and don't really stay that way. But for simplicity sake, we assign numbers to positions and formations to explain things better.
Milan play a 4-3-1-2. Boateng is the '1' behind the '2' of Pato and Ibrahimovic. van Bommel, Ambrosini, and Aquilani form the '3', with Antonini*, Thiago Silva, Nesta and Abate at the back. Boeteng, Aquilani, Ambrosini, and van Bommel form something like a diamond shape in the midfield, while Pato plays just off Ibrahimovic on the right. For a visual representation: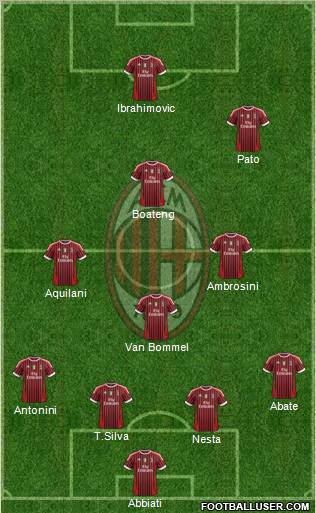 Gennaro Gattuso and Philippe Mexes are suspended and won't feature. *We could see Taiwo or Zambrotta there instead. Both were injured, it seems, and were unavailable for Milan against Lazio.  Also, I'm too lazy go and change the formations just for one player. Sub in Taiwo for Antonini and you get the same idea.
[Update] Robinho and Ibrahimovic are both injured for this game and are unavailable. As the only forwards available, Pato and Cassano will start.
Full Milan Squad:
GOALKEEPERS – Abbiati, Amelia, Rome.
DEFENDERS – Abate, Antonini, Bonera, Nesta, Taiwo, Thiago Silva, Zambrotta, Yepes.
Midfield – Ambrosini, Aquilani, Boateng, Emanuelson, Nocerino, Seedorf, Van Bommel.
FORWARDS – Cassano, Pato.
Milan in attack
When in possession of the ball, Milan primarily attack through the right. Pato has the freedom to either cut inside, or take on the defender. Abate pushes up from the right back position, like Alves, to overlap/support. Boateng also stays near the center-right position.
Milan heavily rely on their forwards for creativity, but have added Aquilani to help take the load of them and have some creativity in the midfield. Expect Aquilani to see the ball quite a bit, looking to either spread play, or play balls into space.
Ambrosini comes over to cover for Abate pushing up. van Bommel also plays a bit deeper, just in front the CB pairing (think Busi in front of our CBs). Antonini is the 'stay-at-home' left back, but does move further forward to support Aquilani. Thiago Silva and Nesta stay behind. In the end it looks something like so: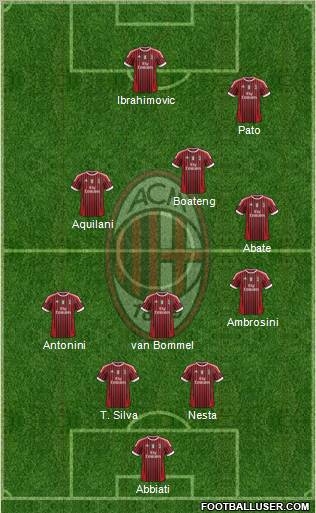 Though it doesn't look like it in the picture above (I tried to show it as best I could while also staying true to reality), there is actually a lot of space behind Ambrosini. Why is this relevant? I'll get to that in a bit.
Milan in defense
The above is all well and good if Milan have the ball, but it's safe to say we'll be having it most of the time.
Milan are a 4-4-1-1 in defense. Aquilani and Boateng move back, and Pato plays just behind Ibrahimovic, forming the '1's. See below: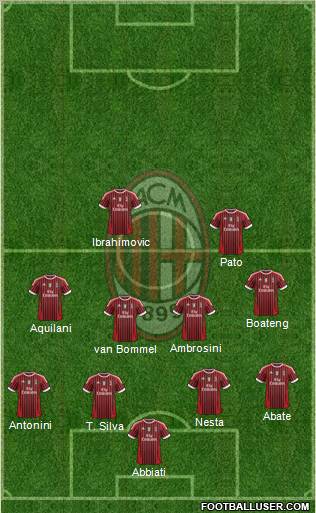 In both defense and attack, Milan are very, very narrow. What does that mean? It means that there are a lot of players squeezed close to each other. They aren't spread out wide, and there is not a lot of space between them.
Why is this relevant? Ambrosini, Aquilani and van Bommel don't have much pace. Neither does Nesta, for that matter. If Ambrosini loses the ball while Milan are in attack, or the ball is played over to whoever we have on the left, both Ambrosini and van Bommel will struggle to keep up with that player, even moreso when we have additional players supporting the one on the ball.
This is where the loss of Alexis really, really hurts. He's the perfect player to play this Milan as he exploits almost all their vulnerabilities to a tee. In a scenerio where Abate loses the ball, just for an example, if the ball is played to Alexis, he has Ambrosini to beat and then is in acres of space to take on Nesta and go for goal, or cross the ball. van Bommel could come over, but will probably have Iniesta and Messi to track as well. What Ambrosini could do is just tactical foul: block Alexis completely, but then he runs the risk of getting yellows and being sent off.
We don't have Alexis though, and that, well, sucks. But the great thing about this Barca team is that we have other options.
To Summarize:
Milan's main two vulnerabilities are:
– Lack of pace in midfield: once they lose the ball, they struggle to make up distance. Good tacklers of the ball, but with the quick feet of our players, they may be forced to tactical foul.
– Very narrow formation: makes them susceptible to width. Combined with the above means wingers with great ball control and pace are terrible for them.
Now to the Barcelona side of things
Considering only our midfield and Messi can score goals (last 9 goals have been scored by Messi, Fabregas, Thiago and Xavi), it seems like all our forward line (read: Pedro and Villa) will be doing is flailing their arms around and being offside.
To some people, Villa in particular will be the place where attacks go to die. Xavi plays a ball over the top for Villa from deep? In the minds of cules (read: mine) it'll go something like so:
A wild GOALSCORING CHANCE has appeared!
What will DAVID VILLA do?
–> SLOT THE BALL PAST THE GOALKEEPER
–> DRIFT INTO AN OFFSIDE POSITION
–> HIT THE POST
–> ROUND THE GOALKEEPER AND SLOT THE BALL INTO OPEN NET
DAVID VILLA used DRIFT INTO AN OFFSIDE POSITION!
It's super effective! DAVID VILLA is flagged offside. GOALSCORING CHANCE took 99% damage!
GOALSCORING CHANCE has disappeared!
Flawless Victory!
…Except it won't really go that way.
All jokes and sarcasm aside, Villa does represent a real danger to defenses; it's just not on the wing. He can maintain decent width, but he's a passable dribbler at most. Taking on defenders isn't his strong suit, and he doesn't have much pace either, so running with the ball is not really an option either.
What Villa is, is a finisher, so getting the ball into space and having a clear shot at goal is where he really excels. Which is why his skill set is great for a team that's not Milan, and why I think he shouldn't start.
Who do I propose to start?
– Afellay. I know, I know. He's just coming back from injury, didn't really have a preseason, and is not match fit. But this is a game Ibi will really excel in. Got oodles of pace, good 1v1 dribbler, and his crossing ability is probably the best on the team IMO.
– Abidal at CB. I know, I know. We'll miss him at left-back. But we really need pace in the center of our defense. Pato is quick, very quick. With Adriano, who is no slouch in the speed department himself, also there to double up, we can neutralize Pato quite well.
– Mascherano at CB. No duh, right? Ideally, I would have wanted Pique here, but Mascherano is a very good alternate to mark Ibra. Close marking plus strong tackling prowess is a good combo to have.
Proposed XI
VV
Alves – Mascherano – Abidal – Adriano
Xavi – Busi – Iniesta
Pedro – Messi – Afellay
We have all the tools to cause Milan some serious, serious problems. One large advantage we have is Camp Nou. It is a very very big pitch, and with Milan staying narrow, we'll have a lot of space on the flanks to exploit. This space coupled with the lack of pace of key defenders, means things could get very ugly for them if we play our cards right.
With Afellay's lack of match fitness, we'll most likely see him start on the bench to come on in the second half (hopefully). I don't want to see Iniesta at LW, as it makes us more narrow which plays into Milan's hands, but the Villa complexity is an interesting one. I'd bank on Villa regardless of the trade-offs he brings.
Puyol has also gotten the green light and could get some minutes. Puyi for Adriano, pushing Abidal to left-back, could happen, though we'd miss Abidal's pace in the middle. Besides, I like complementing pairs at the center of defense (Puyol-Masche is too similar).
3 Things that journalists (read: me) wish would happen during the match:
– Ibra and Villa have a b*tchfight offside. 'You're only here because I left!' screams the Swede. Inzaghi tries to join in from the stands, but is held back by security.
– Gattuso makes a surprise reappearance and somehow gets into an actual fight with Mascherano. Afterwards, they express their mutual respect for each other while snarling.
– Fabregas stays on the bench the whole game. Still manages to score.
Official prediction: Hard to say. Depends on how we are on the day. I'm gonna say we will be on like Tron, so Barcelona 3-0 Milan.
Englishman Martin Atkinson will be the referee for CL match (*van Bommel does a happy dance*).
Game is on Sportsnet in Canada, FSC and ESPN3 in US (I think. I check around, but it's not on ESPN or ESPN2).
(For those who didn't get the reference in the first image's caption, I give you this. Language warning!