I've never made any qualms about my belief that Pep Guardiola knows a hell of a lot more about this game than I do, and specifically about this team. So when Mr. Guardiola (see, we're classy like the NY Times) creates his squad I tend to defer to his judgment, possibly to a fault, but that's just me. This offseason has been no different for me, but for others it has provided no shortage of acrimony, second-guessing, hand-wringing, and general malcontentedness. Calls for more defenders, or less spending, or taller players have largely fallen on deaf ears whilst Pep has promoted 2 and brought in another short winger and the long lost midfielder. Some of these complaints have merit (however little), others however, are your basic fan complaints that ring of a spoiled adult in need of a solid soap-in-a-pillowcase beating. By looking at the components the team has and the different lineups that may be used, I intend to show that not only does the team have much greater depth this year, but is also far more skilled than last year's Double-winning side.
A few points need to be made before we dig in. First, I am not possessed by the tactical expertise of say a Euler, so this will not be quite as in depth as one of his posts, and it may also contain some minor issues, and for those I apologize. Second, and more importantly, there is one man in charge of the squad for this team, and that is Pep Guardiola. The moves to focus on promoting new players (Thiago and Fontas), add wing depth up front (Sanchez), and bringing Fabregas back as a backup for Xavi, Iniesta, and even at DM, are his moves. Admittedly, we also have to assume that the Angel deal fell apart or never occurred because of Pep's hand, not Rosell's. This should also be of some great comfort to fans who fear that Pep is always going to leave next year. Either Pep is the great benevolent one, building his dream team as one of the most talented club football sides in history and leaving it for Luis Enrique in a few months, or he's here to stay barring unforeseen circumstances. You may decide how the team-building bodes for his future with the club for yourselves.
Since the beginning of Mr. Guardiola's reign he has reshaped the squad in his image of what it should be, one that is free flowing in attack, carries all the possession, and makes onslaughts look easy (incidentally, I see Villa-Boas making this exact same transition at Chelsea so long as he's given enough time). And looking back the evolution is stunning.
Essentially, this is Pep's survival of the fittest. Regardless of whether he knew all these pieces were necessary at the beginning or if it dawned on him at some point in between, he's doing a good job of cobbling it and his tenure is rife with examples. I'm personally unsure if he ever really wanted a true 9 in the lineup, but it now appears to be done for the rest of his coaching career here. Even with Eto'o and Ibrahimovic, they were asked to also take up more outside positions over time, and the Eto'o/Ibrahimovic transfer sagas proved to be a worthless distraction for the club, but it may have finally pushed the 9 out in favor of the false 9 of Messi (and I hardly doubt anyone can complain with those results). The closest thing to a 9 on the team now is Villa and I am sure it will stay that way for the foreseeable future.
The signing of Alves is another example, though the player hasn't changed, his role has, moving higher up every season, until 2010-11 when he was 3rd in La Liga in assists. Pep wanted that roving RB and he got the best one available, who is now the best one in the world. Additionally, he has used the DM position, specifically with Busquets, to turn into a third centerback or sweeper during matches, allowing both wing backs to move forward, turning the formation into an adjusted 3-4-3.
The youth movement has also become part of Guardiola's MO managing the club. Pep of course managed Barça B before he came to the A side, and this has informed his promotion and transfer policies ever since. When a B player has become ready and an opening happens at the top, the team has opted for going within the organization instead of without. Gone were the older players in favor of Pedro, Busquets, Jeffren, and Pique, who were all deemed ready to contribute depth. Obviously, not every transfer has followed this trend (read: Alves, Keita, Villa, Ibrahimovic, and Adirano), but viable youth options did not exist for those positions either. Thiago's and Fontas's promotions this summer only serve to reinforce this idea. With possible big name targets available elsewhere, the club went with proven youth to provide depth and coverage in two areas where it was needed.
Even when a transfer has been necessary, the most recent ones have been for youngsters like Cesc Fabregas (who like Pique grew up in La Masia, left, and was brought back), Alexis Sanchez, Ibrahim Afellay, and even an ancient-seeming Mascherano who is somehow only 27 now. This does not include the obviously large number of youth players who have appeared in non-promoted backup roles such as Sergi Roberto, Bartra, Muniesa, dos Santos the younger, etc. Should Pep stick around, expect more promotions in the offing in lieu of purchases.
These examples all inform our idea of the current squad, and here we come to the formations and tactics we might see this year. The current first-team players first year players are: Valdes, Pinto, Pique, Puyol, Fontas, Alves, Abidal, Adriano, Maxwell, Busquets, Mascherano, Keita, Fabregas, Thiago, Xavi, Iniesta, Sanchez, Afellay, Messi, Villa, and Pedro. Outside of GK, only Alves, Maxwell, and maybe Messi play one static position, whereas the others are versatile, playing in multiple positions and areas. This is the key to the smaller squad that Pep carried last year (though this is up 1 players from the primary 20 he started with last August) and the reason the team has avoided adding another defender. Viewing the squad as a series of evolutionary steps to true versatility is the better way to look at it, instead of one-off moves meant to fill a hole or two for the interim.
Starting with what is typically thought of as the "strongest" formation for the squad, or what it would have been last year. I use the scare quotes because I feel this year's strongest squad will be vastly different with the addition of Sanchez and the injury history of Puyol, but we'll get there eventually.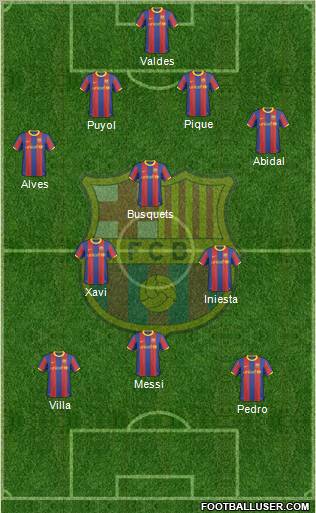 Now, the most routine complaint this offseason has been the lack of another defender after Milito left, but it's one I feel that would be a luxury, not a necessity. Quite simply, the 5 "defensive" outfield positions are occupied by 10 or 11 players (depending on how you view Fabregas as a DM), almost all of whom play multiple positions well. Abidal has served admirably as both a roving LB and a CB, Masch as a CB and DM, Adriano as LB and RB, Fontas as a CB and LB for the B side, Puyol as a RB and either CB, Busquets as a DM or CB, and Pique at either CB position. The following formation represents one where Puyol, Pique, Abidal, and Xavi are all injured, and while it's not perfect, it's also not leaving super gaping holes either that some are claiming (seeing as something similar gave up 2 goals to one of the best offensive sides in the world a few days ago).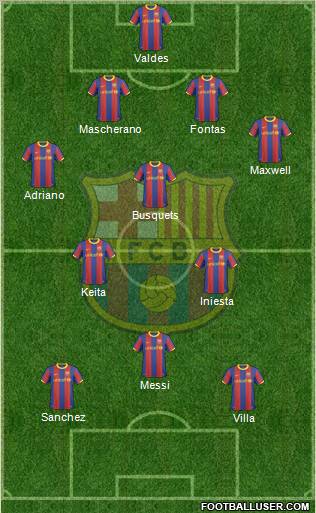 A similarly bad scenario was lived out on Sunday during the first leg of the Supercopa. The starting backline included Alves, Mascherano, Abidal, and Adriano, with Keita at the DM. Though Keita was abysmal in his position (and awfully out of play there), the others filled in admirably. And while I saw some complaints of "centerback-sized holes" being covered by last second stops (namely by Mascherano), I don't see these same comments when Pique or Puyol are doing the last second stopping, which is nothing if not routine in Barça's system. Other more nuanced considerations have to be made when looking at the CB as well, such as finding a cheap, experienced CB who would be willing to play very few games during a season as anything more than a last gasp option. I don't see one and honestly believe that Bartra will be the next defender the team gets, by promoting him from the B side.
Then of course we have Fabregas. So much has been made about this transfer, both tactically, philosophically, monetarily, and the like, but in simple football terms it is about midfield versatility. Cesc has traditionally occupied the attacking/playmaking midfield roles at Arsenal, meaning he may fill in for either Xavi or Iniesta if need be, and I believe we would see little in the way of a drop in productivity. He has shown a proclivity to do this before, if you'll remember back to his play during the 2010 World Cup final. He combined with Iniesta magnificently, eventually doing so for the winner (on the same side of this coin, Thiago provides the same versatility for the club, it's hard to overstate the value these two provide in this regard). A few will wonder about the necessity here, what with Thiago coming on recently and all that, but Xavi's continuing achilles issues scare me, as does his age, and not long ago we knew Iniesta as "Mr. Glass," so… It also behooves us to look to the bridge Fabregas provides between Xavi, Iniesta, and Thiago, a sort of "midfield continuum" as Sid Lowe words it.
Those ideas however, are somewhat obvious. The more nuanced approach is that Cesc can play as a deep mid in defense. As Kevin recently noted, Fabregas started out as a DM in the youth system, and while he's not the large (Busquets) or hulking (Mascherano) type we are accustomed too, he could still work well back there in my opinion. The midfield would be more compacted to be sure, and Abidal would have to be cutoff from coming forward so as to provide backline support, but I don't see this as too far-fetched, or even that bad of an option against certain sides that are not great on counter attacks.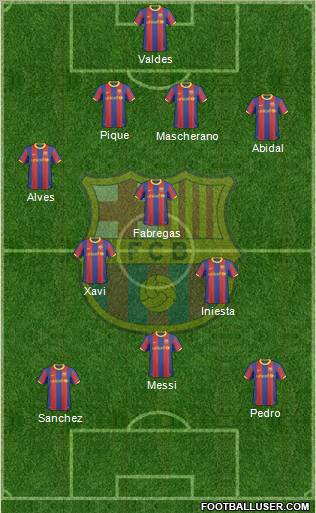 Even a lineup without Messi, an almost unthinkable proposition, is still formidable. Villa would likely slot into the middle of the forward trident, and play a more forward-looking role, instead of Messi who tracks back and takes the ball in midfield, he would play higher up and allow the wings and the attacking mid to provide the offensive link up. Villa played a similar role for the Spanish National Team during the 2010 World Cup when Torres wasn't on the field. As I recall, he did so to some level of success. This formation would also see the wings push out a little wider and the midfield spread out slightly more. In all, missing Messi would hurt badly, but this lineup and alignment shows a lot of strength.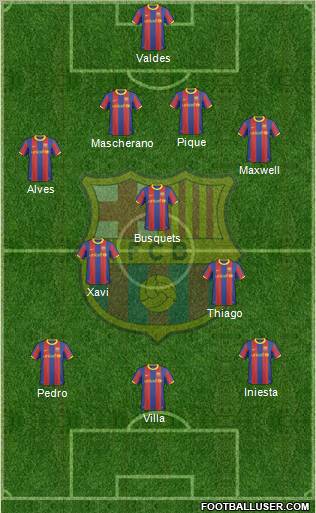 These aren't even the most interesting lineups that could be brought out. And the intrigue isn't what matters the most, though I'm sure Mr. Guardiola will test that theory during some random Copa game. What matters is that the team has options in each third, a number of them. And even options at each separate position present themselves. Though they aren't perfect and you wouldn't want some of them as your first choice, they are versatile and they work in a pinch. During Pep's tenure, the team has suffered injuries large and small and has found a plug in every instance, even when you might not have liked it very much. It has happened for 3 straight years, and I don't doubt it will happen again during this season.
Image: Miguel Ruiz – FCB